HP Vivienne Tam Edition netbook coming in December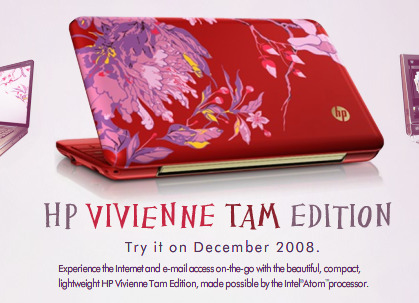 Who doesn't like a computer with a little added style? HP obviously thinks the answer to that is no one, since they have a designer netbook on the way. And though the HP Vivienne Tam Edition netbook was shown off at fashion week in September, we've just now learned it will be available in December. 
During the device's debut, a release date was expected sometime in October, but that apparently has been pushed back. The major draw here is, of course, the designer look and feel of this netbook. However, the actual specs are not yet known. Neither is the price.
What we do know is that this netbook will likely feature a 10-inch screen and this it most definitely possesses an Intel Atom processor. But those crafty guys over at CrunchGear have come up with some estimated specs including a 1.6GHz processor, 512MB-1GB RAM, 80GB hard drive, webcam, three USB ports and an SD card reader.
[via CrunchGear]