HP ProBook 6445b And 6545b Notebooks & Elite 7000 Desktop Break Cover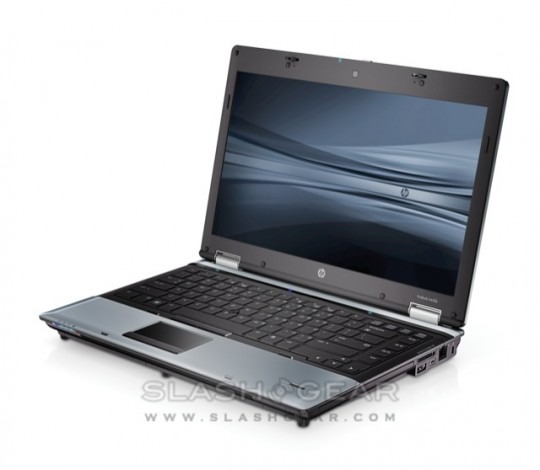 HP have also updated their business notebooks and desktop range today, in the shape of the HP ProBook 6445b and ProBook 6545b laptops and the HP Elite 7000 Business Desktop PC.  The two notebooks each offer a choice of AMD Turion II, Athlon II or Sempron processors, together with up to 8GB of RAM, up to 500GB HDD/128GB SSD, and ATI Mobility Radeon HD 4200 graphics.  The ProBook 6445b has a 14-inch display running at 1,366 x 768 while the ProBook 6545b has a 15.6-inch display running at either 1,366 x 768 or 1,600 x 900.
Both notebooks have WiFi a/b/g/n, Bluetooth and an optional EVDO/HSPA combo WWAN module.  There's also an ExpressCard 54 slot, and an optical drive (either DVD or Blu-ray) that can be switched out for a second battery or second 500GB hard-drive.  HP are offering a pair of desktop docking stations which replicate all the ports, including DVI and eSATA, together with adding more flexibility such as legacy connectors like serial and parallel.  The new notebooks start at $799.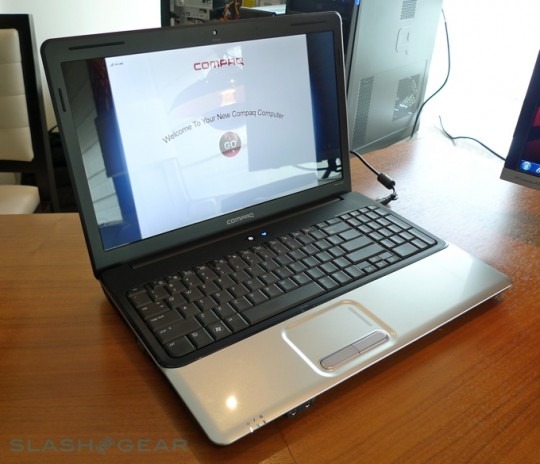 As for the HP Elite 7000 Business Desktop PC, that offers a choice of Intel Core i5 or Core i7 processors, up to 8GB of memory and a choice of up to 1TB of HDD storage or a 64GB SSD.  It has a range of optical drives to choose from, starting at a DVD-ROM and going up to Blu-ray burners, and video card choices from ATI and NVIDIA.  It will start at $799.
[vms b5b27aa7cb790dc20f80]
Press Release:
HP Sets Sights on PC Replacement Cycle New offerings deliver value, increased productivity for businesses

PALO ALTO, Calif., Oct. 13, 2009 – HP today unveiled new PCs to help businesses of all sizes transition to new technology and get more from their IT investments.

The offerings include two affordable notebooks – the HP ProBook 6445b and HP ProBook 6545b – the HP Elite 7000 Business Desktop PC, new HP Docking Stations, and new power management and monitoring software.

These product introductions are the first in a series of business product launches HP has planned over the next few months to provide businesses the broadest mix of products to refresh their aging desktops and notebooks.

"The release of Windows 7 presents an ideal opportunity for businesses of all types to evaluate their aging fleet of client devices and build a plan to leverage the best solutions to meet their company's needs," said Stephen DeWitt, senior vice president and general manager, Personal Systems Group – Americas, HP. "With a wide range of new products in the market, like the new ProBooks and Elite desktops, we have put the right pieces in place to ease the transition to new technology."

Stay productive while on the go Aimed at corporate customers who want an affordable combination of business-critical and innovative features in a full-function notebook PC, the new HP ProBook 6445b and HP Probook6545b offer flexible battery options and a range of wireless connectivity choices.

(1,2)Utilizing new AMD processors and graphics solutions, the HP ProBook b-series notebooks show a marked increase in performance and battery life over previous AMD- based HP Compaq b-series notebooks. Battery life improved 60 percent for up to 8 hours and 15 minutes of use, while performance improved 39 percent.(3)Available with 14-inch or 15.6-inch diagonal high-definition (4) LED-backlit widescreen displays, the new HP ProBook b-series sports a smart new design that incorporates a spill-resistant keyboard with a drain.

As part of its commitment to protecting the environment, HP offers business notebook PCs that are designed with reduced or eliminated substances of concern, reduce energy consumption and are more easily recycled. In addition, the PCs are ENERGY STAR® 5.0 and EPEAT® Gold certified.(5)HP Power Assistant(6) provides total visibility over the notebook PC's reported power consumption, with tools allowing users to conserve power, stretch battery run time and accurately monitor reported power needs. It uses dedicated hardware found in HP Business Notebooks to deliver a level of accuracy and environmental monitoring not found in other power management tools.

On the network level, HP Power Assistant measures, logs and reports platform energy use to give IT departments the information needed to help save businesses money and energy.

When equipped with HP Mobile Broadband,(2) the new HP ProBook b-series can use global positioning system (GPS)(7) to determine 3-D position (latitude, longitude and altitude). When running a separately purchased supporting application, GPS-enabled notebooks can help accurately identify locations around the world, permit personal navigation to guide users on where they need to go, and assist law enforcement in the tracking and recovery(8) of lost or stolen notebooks.

New HP Docking Stations and HP Advanced Docking Stations offer up to six USB ports and eSata support. They also feature up to two video DisplayPort connectors, in addition to VGA and DVI ports, providing multiple choices for high-end digital video output now and in the future.

Featuring the proprietary HP Docking Station Cable Lock, in addition to an industry-standard notebook lock slot, the HP docking stations are dramatically simpler to use than previous locks and enhance security.

Style and performance for small business The new HP Elite 7000 Business Desktop PC is the company's highest- performance small business desktop to date, sporting a sleek exterior design with a metal surface and high-gloss black finish. Ideal for small businesses that want the latest technology, select security features and easy setup, the HP Elite 7000 enables users to protect their assets, data and the company network:

• The HP Chassis Lock deters hardware theft in public areas.

• Credential Manager for HP ProtectTools provides single-sign-on functionality and automatically stores and protects passwords.

• Norton Online Backup from Symantec. HP has teamed up with Symantec to offer great deals on Norton Online Backup, which safeguards data stored on networked PCs by automatically backing up files to one secure, central location that can be recovered in case of hard drive crashes or file damage.(9)

• HP is extending the pre-install Linux offering with pre-installed Novell SUSE Linux Enterprise Desktop 11 (SLED)

• Efficient, low-energy processors and a sleep mode help reduce business costs.

• The HP Power Manager tool tracks energy usage to help businesses better meet their budgets by allowing users to preconfigure power settings without interfering with performance.

A high-performance workhorse, the HP Elite 7000 comes installed with the new Microsoft Windows® 7 operating system,(10) DDR3 memory support, the Intel® P55 Express chipset and a choice of the latest Intel CoreTM i5 and i7 processors.(11) Support for 8 gigabytes(12) of memory, a 1 terabyte hard drive(13) and an optional solid state drive provides opportunities for even more powerful computing. The series also includes an array of bays and ports for expandable flexibility and a RAID 1 mirroring array with two hard drives that mirror data in real-time for reliable data protection.

For high-quality data and image support, the HP Elite 7000 offers a SATA DVD- ROM drive, SATA SuperMulti LightScribe DVD writer drive and optional HP SATA Blu-ray Writer for professional-quality DVD burning and labeling.(14) It also offers a 22-in-1 Media Card Reader that enables easy transfer of photos, files and videos to a PC from various types of memory cards.

Buy with confidence Technology Business Research Inc. released its latest quarterly corporate notebook and desktop notebook satisfaction reports last month.(15) HP was the No. 1 ranked PC vendor in customer satisfaction across both the commercial notebook and desktop categories.

For the seventh consecutive quarter, HP led the desktop category. The current report calls out that "HP's hardware reliability satisfaction rating gained some strength and its performance during the quarter reveals no vulnerabilities."

On the notebook side, HP continued satisfaction gains across most areas of the report, which stated "HP is well positioned for continuing domination of the product design category and potential leadership for hardware reliability satisfaction."

Pricing and availability(16) The HP ProBook b-series and docking stations are expected to be available worldwide on Oct. 22 and in the United States in mid-November for a starting price of $799. The Elite desktop is expected to be available Oct. 22 for a starting price of $789.

More information about the HP ProBook b-series, HP notebook docking solutions and HP Elite desktop, including product specifications and images, is available at www.hp.com/personal.

About HP, the world's largest technology company, simplifies the technology experience for consumers and businesses with a portfolio that spans printing, personal computing, software, services and IT infrastructure. More information about HP (NYSE: HPQ) is available at http://www.hp.com.