HP Pavilion HPE h9 Phoenix gaming PC hands-on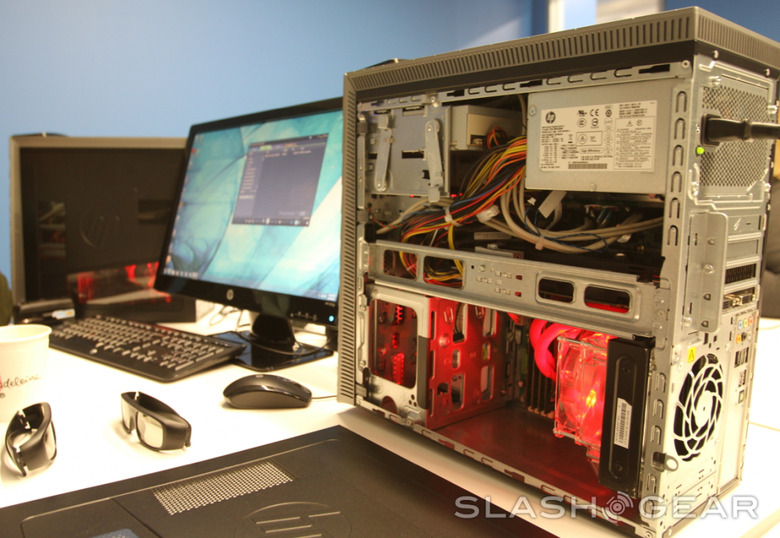 Earlier today we showed off the other piece of this double announcement in the HP Omni 27 all-in-one PC, and now it's time for the monster – the HP Pavilion HPE h9 Phoenix performance PC. This strangely endearing looking tower has your choice of Intel X79 or AMD 8-core processors and contains some rather lovely red lights under its black and silver exterior. Its innards are revealed to you through the side and gaming prowess throughout. This look like something you're willing to plop down the side of your desk for $1,149.99, a cool price coming on January 8th?
Have a peek here at what we've seen recently, this Phoenix makes one see options like secondary hard drives and liquid cooling look like essentials – at a glance it appears that HP is bringing the fury for the modern gamer. Processor options roll all the way up to a fabulous Core i7-3960X. There's a 160GB SSD inside aside 8GB of RAM, and all of it sits inside the case – the case that just screams "I AM HERE." What a beast.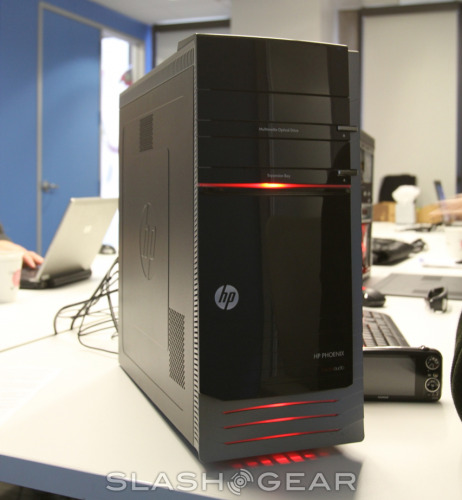 Then there's a monitor for your HP loving as well as sort of a bonus that was sitting amongst these new bits of hardware, the Compaq L2311x (not pictured). This monitor has a 23-inch display with built-in port replicator, able to connect with USB 2.0, USB 3.0, or your favorite, the traditional ol' VGA. You'll be able to pick that masterpiece up this February or a couple other generally improved monitors by the names LV1911 and LV2011 early this year as well. These monitors will run you $319, $125, and $135 respectively. Have a peek at the Phoenix below and above and get set for our reviews soon!