HP Pavilion Elite m9600 PC plus four new HD LCDs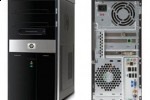 HP have announced a new Core i7-based desktop PC, the HP Pavilion Elite m9600 series, intended for media creators and editors but also likely to find favor with gamers.  The range starts with the Core i7-920 CPU, NVIDIA GeForce 9600 GS video card, a 500GB hard-drive DVD burner; HP have also announced four new Full-HD 16:9 LCD monitors to go with the Elite m9600.
Optional upgrades include adding a Blu-Ray DVD writer and switching out the NVIDIA graphics for an ATI Radeon HD4850 video card.  The HP Pavilion Elite m9600 starts from $949 and is already available online; it will begin showing up in retail stores from April 13th.
As for the displays, they range from the 18.5-inch HP w1858, through the 20-inch HP 2009m and the 21.5-inch HP 2159m, to the 23-inch HP w2338h.  Each have integrated speakers and narrow bezels, while the 2159m and w2338h also have HDMI inputs.  The HP 2009m specifically will be priced at $100 when bought with an HP Pavilion Elite desktop; otherwise it's $199.  The w1858 is $169, the 2159m is $239 and the w2338h is $299.
Press Release:
HP Brings Maximum Performance and High-definition Entertainment to Multimedia Enthusiasts

PALO ALTO, Calif., March 25, 2009 – HP today announced a new Pavilion Elite desktop PC, along with complementary widescreen monitors, to deliver consumers the speed, reliability and performance needed for demanding multitasking plus graphic-intensive files and movies.

The HP Pavilion Elite m9600 series desktop PC features a powerful Intel® Core™ i7 processor(1) and rich entertainment features for videos, games, photos and more. For an enhanced high-definition (HD) experience,(2) the HP Pavilion Elite can be paired with one of HP's new widescreen monitors.

"Media enthusiasts and creators need high performance, tons of storage and high definition. Customers will find this model a total package and a great value," said John Cook, vice president, Marketing, Worldwide Consumer PC Business, HP. "Our highly compelling solutions help to explain why customers all over the world have made HP the global leader in consumer PCs."

HP's ultimate high-performance and multimedia experience

The HP Pavilion Elite m9600 series makes working with and storing multimedia files fast and reliable, with available options including Intel Core i7 940 processor, up to 1 terabyte (TB) hard drive(3) and12 gigabytes (GB) of memory for handling with ease demanding tasks such as streaming videos and editing photos.

For additional storage for photos, music and videos, the m9600 features two built-in drive bays for the optional HP Personal Media Drive and HP Pocket Media Drive,(4) as well as an HP Easy Backup button to quickly back up files.

This high-productivity PC can be configured starting at $949(5) with Intel Core i7 920 processor, NVIDIA GeForce 9600 GS graphics, 500 GB hard drive(6) and a SuperMulti DVD burner(7) for creating DVDs and CDs with custom labels. For an enhanced gaming and entertainment experience, the m9600 can be customized with a Blu-ray DVD writer(8) and ATI Radeon™ HD-4850 graphics card.

New monitors deliver high-definition experience

To complement its desktop PCs, HP introduced four monitors that provide a true high-definition experience(2) with 16:9 aspect ratio, making them well equipped for multimedia viewing, photo editing or gaming. HP is offering the 18.5-inch diagonal HP w1858 Monitor, 20-inch diagonal HP 2009m Monitor, 21.5-inch diagonal HP 2159m Monitor and 23-inch diagonal HP w2338h Monitor to fit the needs of a broad range of customers.

The new monitors offer widescreen displays with more viewing area and fast response times for playing computer games, enjoying action movies and maximizing productivity with the ability to view two pages side by side. The 2159m and w2338h monitors also include HDMI inputs for a high-definition experience.(2)

The monitors are designed to maximize desk space with features that include built-in speakers and slim profiles. The 2009m, 2159m and w2338h monitors also include height and tilt adjustments for optimized viewing. All of the new monitors are ENERGY STAR® qualified.

Through April 11, consumers can save when purchasing one of the new monitors with an HP desktop through www.HPDirect.com. The new HP 2009m monitor will be available for $100 when purchased with any HP Pavilion Elite desktop and the w1858 monitor will also be available for $100 when purchased with the HP Pavilion Slimline s3750t or HP Pavilion a6750t.(5)

HP Wireless Eco-Comfort Mouse

The HP Wireless Eco-Comfort Mouse combines style and comfort in a PVC-free design made with up to 30 percent recycled plastic. The packaging consists of up to 76 percent recycled materials. The Wireless Eco-Comfort Mouse features responsive tracking with a high-precision laser sensor, and its curved, comfortable shape includes two easy-access buttons to launch applications, control volume, navigate, zoom, or launch websites.(9) It also includes automatic power-saving features with standby modes.

Pricing and availability(5)

All of the products mentioned are available for purchase through www.HPDirect.com.

The Pavilion Elite m9600 series PC is currently available starting at $949. Customers also can purchase the product in select retail stores nationwide or by calling +1 800 HPDirect starting April 13.

Customers can purchase the new monitors through www.HPDirect.com today at the following prices:

The HP w1858 Monitor starts at $169.

The HP 2009m Monitor starts at $199.

The HP 2159m Monitor starts at $239.

The HP w2338h Monitor starts at $299.

Starting April 6, the monitors will be available in select retail stores nationwide or by calling +1 800 HPDirect.

The HP Wireless Eco-Comfort Mouse is currently available starting at $39.99.

HP service and support

HP products are backed by HP Total Care, HP's award-winning service, solutions and support, both in and out of warranty. HP's online support options include the newly designed HP Customer Care site and consumer support forums, online classes offered at no charge, how-to videos and the PC Tune-up Center. HP support professionals are also available 24/7 by phone, e-mail and real-time chat.

HP PCs come with built-in support through HP Total Care Advisor, which allows consumers to navigate through PC care, check up on health and security, get product information, view connections and get updates from a single access point. When HP repairs or replaces a PC, those parts and products are either re-used or recycled. More information is available at www.hp.com/go/totalcare.

About HP

HP, the world's largest technology company, simplifies the technology experience for consumers and businesses with a portfolio that spans printing, personal computing, software, services and IT infrastructure. More information about HP (NYSE: HPQ) is available at http://www.hp.com/.

(1) Dual/Quad core is a new technology designed to improve performance of certain software products. Not all customers or software applications will necessarily benefit from use of this technology. 64-bit computing on Intel architecture requires a computer system with a processor, chipset, BIOS, operating system, device drivers and applications enabled for Intel 64 architecture. Processors will not operate (including 32-bit operation) without an Intel 64 architecture-enabled BIOS. Performance will vary depending on hardware and software configurations. More information is available at www.intel.com/info/em64t.

(2) HD content is required to view HD image.

(3) For hard drives, TB = 1 trillion bytes. Actual formatted capacity is less.

(4) Optional additional hard drives sold separately.

(5) Pricing available at HP Direct and subject to change without notice.

(6) For hard drives, GB = 1 billion bytes. Actual formatted capacity is less. Up to 10 GB (for Windows Vista®, Windows® XP and XP Pro) and up to 12 GB (for MCE) is reserved for system recovery software.

(7) Does not permit copying of commercially available DVD movies or other copyright-protected materials. Intended only for creation and storage of original material and other lawful uses. Note that DVD-RAM cannot read or write to 2.6GB Single Sided/5.2 GB Double Sided – Version 1.0 media.

(8) As Blu-ray is a new format containing new technologies, certain disc, digital connection, compatibility and/or performance issues may arise, and do not constitute defects in the product. Flawless playback on all systems is not guaranteed. For Blu-ray titles to play they may require a DVI or HDMI digital connection and the display may require HDCP support. Don't copy copyright-protected materials.

(9) Internet access required and sold separately.