Top 7 Hot Tubs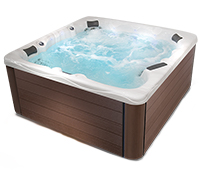 Clarity Balance 8 by Master Spas
Pros
Lounge seat and auxiliary jets
Highly customizable
Made in the U.S.
Low monthly operation costs
Cons
Prices vary by location
Few standard entertainment features
The Clarity Balance 8 hot tub seats six people comfortably and includes multiple therapy options, including dual therapy pumps, 48 massaging jets and StressRelief seats. The spa also includes the Master Force Bio-Magnetic Therapy System, which targets pressure points on the neck and back with strategically placed magnets.
Customers who left positive reviews on ConsumerAffairs seem to like that the tub is a good size. Master Spas customer service reps also appear easy to work with when coordinating delivery and install. You also have the option to add premium features like dream lighting, an air sound system and a Wi-Fi module. The company estimates operating costs at $22.44 per month.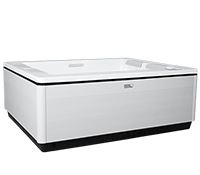 STIL by Bullfrog Spas
Pros
Modern style
Lifetime spa frame warranty
High-density insulation
Instant custom quotes online
Cons
A little pricey
Limited design options
The STIL line from Bullfrog Spas combines holistic wellness with modern design. These tubs look very sleek and include personalized therapy options and reclining seats. We like that they include premium features, such as advanced touch controls and integrated waterfalls.
Customers can choose between four- and six-seat hot tubs designed to use space efficiently. The base manufacturer suggested retail price is between $10,000 and $14,000. Additional accessory options, such as hot tub cover lifts, Wi-Fi audio systems and enhanced filtration, increase the final price.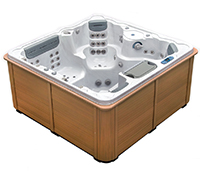 Concord by ThermoSpas
Pros
Luxury therapy seats
Free site inspection and estimate
Long-lasting titanium heater
Good warranty
Cons
Limited pricing information
No speaker system
The Concord tub by ThermoSpas is a midsize tub designed to comfortably seat up to five people. The tub has two luxury therapy seats with armrests and back massage jets for extra comfort. LED underwater lighting comes standard, and customers can choose from a variety of cabinet and shell color options.
The heater is designed with titanium components to last 10 times longer than standard heaters. All ThermoSpas include a 20-year structural warranty and a 10-year equipment replacement warranty. Prices vary by location and customization, but most tubs start under $10,000.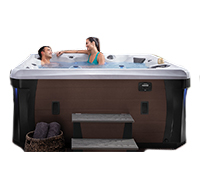 Hollywood Elite by Marquis Spas
Pros
41 jets included
10 color options
Local dealers in most areas
Highly customizable
Cons
No instant online quotes
Limited availability for some products
The Hollywood Elite tub is a six-person luxury tub from Marquis Spas. This tub includes 41 jets for full water therapy and a MicroSilk water system the company states encourages cell regeneration. Customers can add many different personalization options, like subwoofers, a step system and more.
With dual pumps, water moves faster and the double insulation keeps the water hotter. Other features include cup holders, head cushions and soothing waterfalls. Marquis Elite spas come with a five-year warranty on the structure and a three-year warranty on plumbing. Pricing starts at around $10,000 with financing available through Wells Fargo. The company estimates operating costs at $20.14 per month.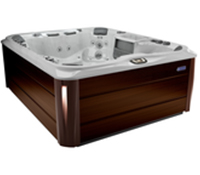 Aspen 880 by Sundance Spas
Pros
66 jets
Bench seating
Many included benefits
Customization packages available
Cons
Limited price transparency
Some shipping delays
The Aspen 880 is Sundance Spas' largest nonlounge spa and offers a bench seat for two. With 66 jets, it is one of the most therapeutic we've researched. All spas include aromatherapy, full-body Intelli-Jet seat and deep massage therapy. We also like that the tub utilizes nature-inspired UV-C technology for filtration.
According to the Sundance Spa Store, the Aspen 880 starts around $13,000. Add-on packages, like cold-weather insulation, entertainment and smart technology, start at $699. The tub comes with a 10-year shell structure warranty.
TX by Hot Spring
Pros
Budget-friendly
Eco-friendly
Multiple design options
Includes LED lights
Cons
Fewer jets than some models
Prices vary by location
The TX is a corner hot tub that seats two people comfortably and can fit in most spaces. With 10 jets explicitly designed for targeted relief, it offers a good amount of therapy within a small design. The TX hot tub includes LED lighting, metallic corners and integrated pillows. Select from seven different design options for cabinet and shell colors.
TX is Hot Spring's base model. Spa prices vary by location and features selected. The company estimates operating costs to be between $12 and $26 per month. The tub includes a five-year no-leak shell warranty.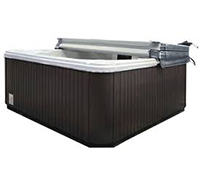 Hawaiian Plus by Cal Spas
Pros
Adjustable therapy system
Titanium heater
100% American-made
Included features like LED lights
Cons
No instant online quote
Limited color options
The Hawaiian Plus is a five-person hot tub with 31 adjustable jets. With added features like a cascade waterfall and 5-inch LED spa light, the Hawaiian Plus model offers a beautiful and relaxing experience. We like that its unique design allows for more targeted therapy in specific areas, too.
The titanium heater keeps water hot with a high level of energy efficiency. All spas are made in the U.S. and include a five-year structural warranty. Pricing varies by location and optional features selected.
How We Found the Best Hot Tubs
We started with a list of 15 popular hot tub companies. To select our favorites, we compared reviews and ratings from ConsumerAffairs, the Better Business Bureau and Hot Tub Insider. We first eliminated companies with more 1-star reviews than 5-star reviews. We then considered the availability and overall selection of tubs. Once we determined the top hot tub companies, our editorial team selected its favorite model for each.
What to Look For in a Hot Tub
Not all hot tubs are created equal. Every company sets its own standards for material and insulation quality; some use more energy-efficient materials than others. You want to look for a hot tub that offers the highest-quality materials and sanitation systems so you don't have to pour money into it over the years. And depending on what you plan on using your hot tub for — whether it's entertainment or therapy — you want to ensure that the system you choose offers the most added benefits.
Quality materials and insulation: Acrylic is the most common shell material for hot tubs because it's cheap and relatively efficient. It's smart to look for models made with higher-density insulation, like foam materials. These maintain water temperature more efficiently, which may lead to lower monthly energy costs.
Effective water filtration and sanitation system: The more effective your sanitation and filtration system is, the less time and money you spend on maintenance. There are a few options on the market today, including chlorine, bromine and saltwater. Chlorine is considered the most cost-effective but may not be as enjoyable as saltwater for the soaking experience. Make sure you understand the tub's energy efficiency and the maintenance required.
Massaging spa jets: Nearly all hot tubs include some sort of jet system, but there are many types of jets other than traditional jets on the market. You can choose to add massaging jets that offer more targeted relief and benefits. Some companies let you add additional jets for more comfort overall. Consider taking a test soak in a few hot tubs to really get an idea of what types of jets you want in your tub.
Lighting and sound for ambiance: Most hot tubs include lighting as a general accessory, but some offer more high-tech options with changing colors and integrated sound systems. Many new models have Bluetooth connectivity.
Hot tub seating options: Seating capacities for hot tubs typically range from two to eight people. Generally, the bigger the hot tub, the more expensive it is. Make sure you consider how many people will be using the tub. The size of tub you need, your budget and your landscaping help you determine the size of hot tub you should buy.
Bottom Line: Which Hot Tub Is Right for Me?
There are many different brands and models of hot tubs on the market. While that might mean a bit more work researching and comparing them, it also gives you more customization and price options. Knowing what features you want before you start comparing tubs helps you narrow down your search faster and more efficiently.
Frequently Asked Questions About Hot Tubs
You should expect to spend at least $3,000 on a new hot tub, but high-end models can cost upward of $16,000. You can sometimes find better deals when you shop for used or refurbished tubs.
On average, it usually costs about $1 per day to run a hot tub, according to Direct Energy. The type of water heater used will usually dictate the efficiency of the tub and how much it will cost to operate.
Most hot tubs are designed as "plug-and-play" models, meaning you only need to plug it into a designated electrical outlet and fill it with water. These are 110-volt models. If you buy a 220-volt hot tub, you'll need to hire an electrician to make sure your home is properly equipped. If you don't have access to a water source, like an outdoor faucet with a hose, you might need a plumber as well. Lastly, a flat surface is required, so you may need to hire a landscaper if you don't have one already available.
Usually, you'll need to do some form of maintenance on your hot tub at least once a month. This includes checking the pH level and skimming the top for debris. About once per season, you'll want to clean the water filter and drain the water completely for a good cleaning. You should expect to have to change the water filter about once every two years.
It depends on whom you're talking to. Most of the time, the difference refers to the strength and number of jets. Traditional hot tubs don't have a bunch of jets installed, while spas do. However, some companies use the names interchangeably.
Most companies offer free delivery with the purchase of a hot tub. However, that can differ from company to company, so be sure to ask!