Honda Fit Hybrid To Get Honda Insight Engine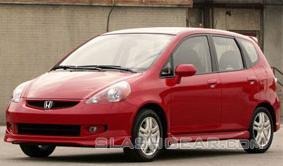 Industry insiders have confirmed that Honda will be producing a hybrid version of the Honda Fit subcompact car.
Nihon Keizai mentioned in it's previous report that Honda is developing a new 1.0 liter hybrid engine for the Honda Fit hybrid, but an anonymous source said the Honda Fit hybrid will likely use the Honda Insight's engine, a 1.0 liter 12 valve 3-cylinder Honda Integrated Motor Assist hybrid engine. The Fit would also likely replace the Honda Insight in it's market segment, though production of the Insight would likely continue for bragging rights as one of the most fuel-efficient vehicle manufactured on US roads, though in reality it lost the title to the Messerschmitt KR200. It was also the first hybrid car to be on sale for the mass market in the US.
The Honda Insight engine is a SOHC inline-3 1.0 liter engine making 67 horsepower at 5700rpm in gasoline mode and 73 horsepower at 5700rpm with Integrated Motor Assist. It comes with both manual and CVT gearbox options. The Honda Insight was featured in the movie Be Cool, where it was called the Cadillac of hybrids. The 1.0 liter IMA engine won the International Engine of the Year award 2000, and held the Sub-1 liter category from 2001 to 2005.