Hillcrest Labs Kylo TV Browser Gets Slick Update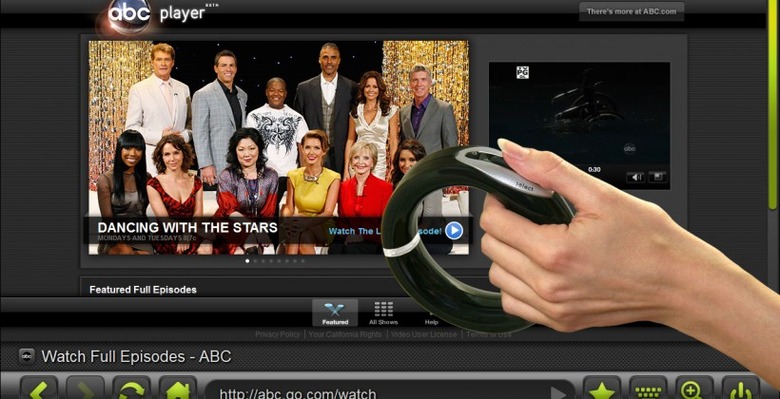 Hillcrest Labs' Kylo browser for TVs' initial launch was slightly overshadowed by Hulu blocking it from displaying its streamed content, but that hasn't stopped development.  A new version of Kylo has arrived, complete with instant visual search thanks to Clicker.tv and new UK-centric localisation options.
There's also improved integration with Windows Media Center, including compatibility with its remotes, and a new bookmarking system with subfolder support.  The company is obviously trying to cement its user-base before Google TV harrumphs onto the scene.
As ever, Hillcrest Labs is positioning Kylo as the perfect accompaniment to their The Loop wireless pointer, which is now available for $69.
Press Release:
Hillcrest Labs Unveils New Version of Kylo™: the Free Web Browser for Television, Now with New Look and New Search

– Latest Version Includes Instant Visual Search Through Integration with Clicker.tv –

– Now Available for the United Kingdom, with a UK-Centric Kylo Directory –

– Ideal Companion Product, The Loop™ Pointer, Offered at Reduced Price–

Rockville, MD – October 5, 2010 – Hillcrest Labs today unveiled the latest version of Kylo™, the free Web browser for television, with many new features for the millions of consumers who view online content on their PCs or Macs® connected to the TV. Kylo lets users access sites across the Internet, with a browser that was specifically designed to be viewed from a distance in the living room, family room or dorm room. To mark the occasion, Hillcrest's award-winning companion product, the Loop pointer™, is now available for $69 in the U.S. for a limited time – a thirty dollar savings from its usual price.

The latest version of the Kylo browser (Kylo Beta 0.8) is available for free via download at www.kylo.tv. Current Kylo users report a high level of satisfaction and their feedback directly impacted the new design and improvements in the browser. The latest Kylo browser includes a variety of new enhancements, including: an instant visual search feature that provides thumbnails of images as users begin to type search terms, enabled by a new integration with Clicker.tv; a simplified user interface; improved bookmark management and customization; tighter product integration for users of Windows® Media Center; a new Kylo Directory for users in the UK; and more.

The Kylo browser is not meant to replace traditional browsers such as Internet Explorer®, Safari® or Firefox® for use with standard computer display screens, but instead is for use on a television connected to a computer. Unlike other applications or websites, Kylo is not a "walled garden" of aggregated video content, but rather a true Web browser that lets users go where they want across the Internet. Compared to conventional browsers, the Kylo browser provides more on-screen viewing space and less visual clutter; larger fonts and buttons for easy navigation from across the room; an easy-to-use onscreen keyboard; and zoom-and-pan capability for enhanced viewing.

"Kylo is the simplest, most open and affordable way to enjoy Web content on TV," said Dan Simpkins, founder and CEO of Hillcrest Labs. "For the vast majority of households that already own a computer, there is no need to buy a separate box or pay additional subscription fees in order to enjoy the entire Web on TV. With our new product enhancements, Kylo is an even better browser than before, and we are very proud to offer a version for the UK for the first time."

New Features of the Kylo Browser Beta 0.8 include:

New look and interface – The new Kylo browser includes visual and usability enhancements, such as better zooming, that improve the overall user experience. With even more space dedicated to the actual Web page and fewer buttons than before, learning and using Kylo is easier than ever.

Instant visual search capabilities – Through Hillcrests' new strategic relationship with Clicker.tv users who type in a search query using the on-screen keyboard or a physical keyboard are provided with instant thumbnail views of results from across the Web. This visual feature can greatly reduce the amount of text needed to find a match and provides a more appropriate way to interact with content options from across the room.

UK-centric directory – Kylo now automatically detects a users' location and replaces the US-centric directory with one that includes popular UK sites, when applicable.

Enhanced integration with Windows Media Center – Users are now able to automatically integrate the Kylo browser into Windows Media Center. This feature enables users to launch Kylo from within Windows Media Center and then easily return directly to Windows Media Center when the Kylo browser is closed. It also includes new control key settings that enable Kylo to be controlled by standard Window Media Center remotes.

Better bookmark management – The new Kylo makes it easier to organize and customize bookmarks. Users can utilize the new bookmark feature to set up customized, visual directories of favorite sites, which can be organized in various subfolders within the Kylo browser.

Default search engine – This new setting allows a user to set Google, Bing, Yahoo, Ask or Truveo as the default search engine.

Updated directory of links – The Kylo directory, which serves as a fast index to top sites, has been updated with a variety of new and increasingly popular sites. The directory contains links to dozens of sites across a range of topics including: TV, movies, music, sports, games, and more. In addition, the directory now includes a co-branded Clicker.tv application, specifically revised for the Kylo user.

The Kylo browser for TV works with any mouse, but is ideal for use with Hillcrest's Loop pointer, the award-winning, in-air mouse that is powered by Hillcrest's Freespace® in-air pointing and motion-control technology. For a limited time, the Loop pointer is available for $69 via Hillcrest Labs or Amazon.com at www.hillcrestlabs.com/loop. The Kylo browser is available for free via download at www.kylo.tv. A downloadable media kit, including product images, is available at http://kylo.tv/news/. Consumers can follow Hillcrest Labs on Facebook at: www.facebook.com/kylobrowser or Twitter at www.twitter.com/kylotvbrowser.