Herman Miller Envelop Desk Leans Back for All Day Tech Users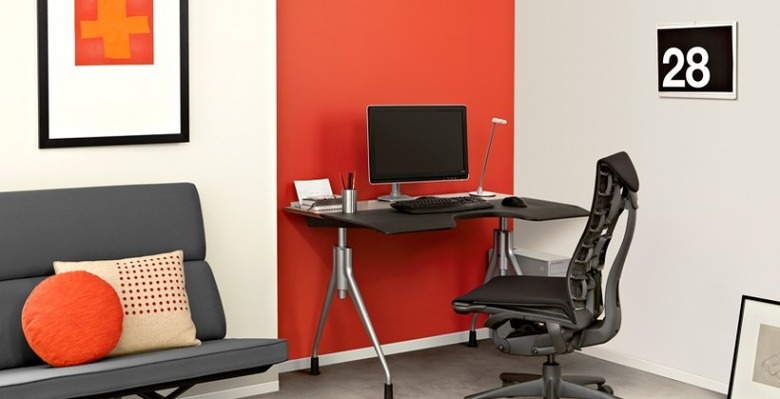 So you sit at your desk all day, do you? Sounds familiar to me – in fact more often than not I find myself sitting in several places looking for the best "desk" to meet my ever-changing daily needs; for example right after a meal or early in the morning are completely different levels of leaning back or sitting up. The folks at Herman Miller have heard the cries of you and I, ladies and gentlemen of the tech-using community, bringing forth the "Envelop Desk" that has the ability to move back and forth with the user, leaning down and towards the user when they need it most.
While the desk may not look like anything extremely spectacular on it's own (it being the modern minimalistic masterpiece that it is,) it's the pulling back and down of the black piece of the desk that makes the most magic. You'll see what's going on in the video below, as Herman Miller specialists see a young lady working at her desk in the normal fashion, taking away the elements that aren't working for her, replacing these then with Herman Miller pieces of furniture, the Envelop Desk included – she gets to a point in her day when she wants to lean back a bit and – what's that – she's got the ability to pull her desk back and down to compensate!
Based on what Herman Miller is noting was "extensive research and development," the Envelop Desk provides "the ideal alignment of a users eyes and posture with their screen for optimal ergonomic comfort." Sounds rather nice and comfortable to me. And what's best? The Envelop Desk is made entirely of recyclable materials so if you ever find a desk to replace it, this piece of furniture can be broken down and turned into new desks!
This desk is going to run you right around $960 USD before shipping costs, and you've got a couple choices as to what you're going to get for your surface material and base finish. Designers Bill Stumpf and Jeff Weber would LOVE for you to pick one up, and your humble narrator CERTAINLY wouldn't mind having one for himself. ALSO Herman Miller lets us know that between the 1st and 15th of August you can get standard shipping for just $9 on all orders over $499.