Halo Soda Vending Machine up for Auction for Charity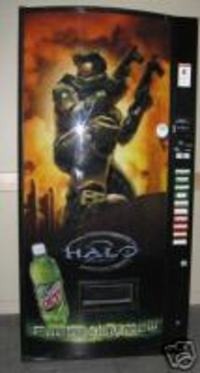 This one off pop machine was designed for Bungie to help them celebrate the milestone that was Halo 2, but it never got used. Well, now they've had the whole team sign it and are selling it for charity with all of the proceeds going to the Make a Wish foundation.
Like I said, the team never used it, so it's more or less brand new, save for the small amount of dust that might have built up on the machine. The current bid is $15,000 if you want this literally one of a kind machine.
Shipping is free if you can pick it up in Kirkland, Washington, otherwise it ranges from $200 to $2000 depending on where you live in the continental US, and if it has to leave that are either to hit Hawaii, Alaska, or Puerto Rico, or worse yet, internationally, I'm sure those shipping costs spike up quite quickly. They did use it a few times to test it and make sure it worked, and it does, but that's it, so, fire up your bank accounts. I wonder if it comes with a case or two of Mountain Dew's Halo Game Fuel drink?
[via Kotaku]