Gyration Air Music Remote Hits Shelves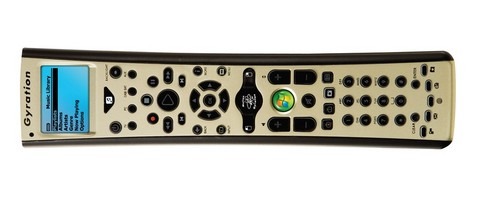 Gyration's motion-sensitive Air Music Remote is now available, promising equally straightforward control of multiple home entertainment devices and a connected HTPC.  Fitted with the company's gyroscope system, which allows users to control an on-screen pointer using mid-air gestures, the Air Music Remote also has a backlit LCD display that can show track information and other details from Windows Media Player, iTunes and Windows Media Center.
Both infrared (IR) and radio frequency (RF) connections are supported, meaning the Air Music Remote is equally at home directly controlling your home cinema and hifi components as it is hooking up to your PC.  The RF range is up to 100 foot.
The Gyration Air Music Remote is available now, priced at $179.99.  Buy it with one of Gyration's well-considered wireless portable keyboards, and the bundle is priced at $229.99.
Click here to see the remote full-size.
Press Release:
Gyration Air Music Remote with MotionSense(TM) Hits Retail Today

New Universal Remote with LCD Display Offers Complete Control of Digital Home Entertainment

MILPITAS, Calif. –(Business Wire)– Sep. 8, 2008 Movea, Inc., the leader in motion-sensing technology for digital media, today announced the retail availability of its new Gyration Air Music Remote with MotionSense technology. The Air Music Remote offers digital media convergence enthusiasts complete control of their home theater systems, bridging the PC-to-TV gap by combining a universal remote control with the functions of a PC mouse. The new remote features a backlit LCD panel that displays music selections from Windows(R) Media Player (including Media Center) and iTunes(R), and allows one-click play and volume control from up to 100 feet away.

The Air Music Remote controls all digital home entertainment with the ability to replace existing TV, cable, A/V and Media Center remotes, and eliminates the need for a mouse. With Movea's industry leading MotionSense technology, the Air Music Remote allows the use of natural hand movements to control the on-screen cursor and all aspects of Windows Media Center software with pinpoint precision. It includes standard menu navigation, an alphanumeric keypad and shortcut buttons.

Gyration remote controls function via radio frequency (RF) for the home theater PC, as well as Infrared (IR) for traditional audio/video (A/V) components. The RF in-air mouse control allows for web surfing and the navigation of streaming media sites via the television, such as YouTube(R), SlingMedia or AOL Music(R). It also enables users to easily search and view content such as digital photos or Xbox downloads and control music from any room in the house.

"We are excited about the early acceptance of our Air Music Remote," said Greg Smith, Vice President for Marketing at Movea Inc. "The positive reaction from retailers validates how powerful our MotionSense technology is in solving the key user interface challenges facing consumers in the digitally connected home."

The device is now available for purchase with a suggested retail price of $179.99; $229.99 if bundled with a wireless portable keyboard. For more information on this and the family of Gyration motion-sensing products, visit http://www.gyration.com.