2021 Ram 1500 TRX Gallery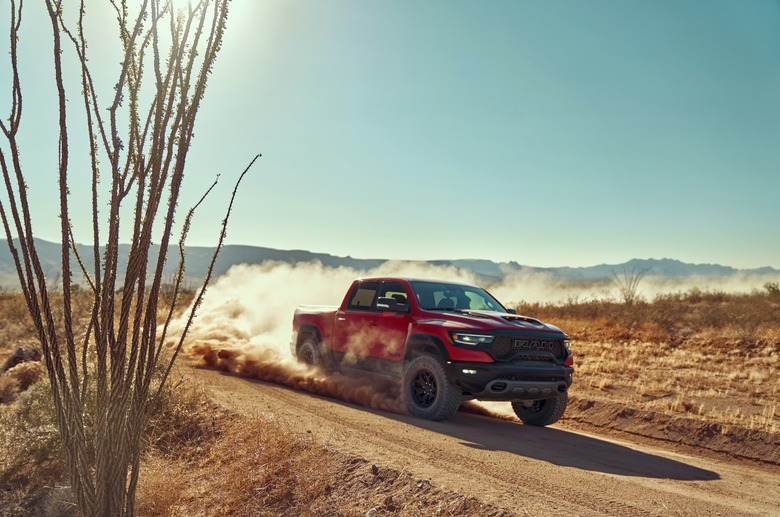 Ram promised a power-truck, and the 2021 Ram 1500 TRX delivers. A potent alternative to Ford's F-150 Raptor, the newest TRX model uses the automaker's 6.2-liter supercharged HEMI V8 engine. That brings 702 horsepower and 650 lb-ft of torque, for a 0-60 mph run of 4.5 seconds. Top speed is 118 mph.
As you might expect, there have been a lot of upgrades along the way. There's a new frame, stiffer and reinforced for the sort of off-road duties the Ram 1500 TRX might be expected to entertain, and high-strength aluminum in other places to keep weight down. Ground clearance is 11.8-inches, and the standard tires are a whopping 35-inches. There are 2.5-inch Bilstein Black Hawk e2 adaptive performance shocks, and a Dana 60 rear axle.
Outside, it's 8-inches wider than a regular 1500, with a 6-inch track increase. LEDs, oversized badging, and side graphics are either standard or available. Inside, you can opt for tough, hard-wearing materials or more luxe versions like leather; the 12-inch touchscreen is standard either way. Expect it to arrive in dealers in Launch Edition spec from the end of 2020.
2021 Ram 1500 TRX Launch Edition: