Grovemade's latest speaker system goes natural with walnut and maple shells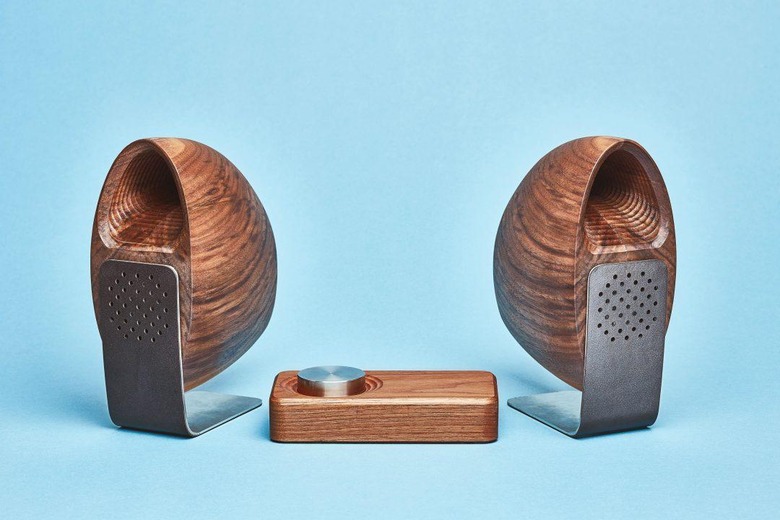 Grovemade has announced a new line of
that are looking to take a more natural approach to sound quality. This new speaker system is the result of a team up between the
and Portland, Oregon-based designer Joey Roth, and the finished product offers up a premium system that has a rather unique spin on speaker design and construction.
That's because the shells of these speakers are made out of either walnut or maple wood, though unlike most wood speakers you'll encounter, that isn't just for looks. In its announcement, Grovemade says the speakers feature a back-loaded horn design, which "reinforces the low frequencies, while the 2" full range driver delivers coherent mids and sparkling highs without the use of digital signal processing." The speakers, which Grovemade says are produced one at a time at its workshop in Portland, should be compatible with just about any audio device, be it a smartphone, computer, or turntable.
If this set sounds (and looks) like something you'd want out of a pair of speakers, get ready to shell out some cash. The walnut version will set you back $599, while the price tag on the maple speakers isn't much lower at $499. No one ever said audio quality was cheap, after all. Here's a full list of specs for Grovemade's new speaker system:
- Back-loaded horn design

- 2 x 25W amplifier at 8 Ohms

- Fountek FR58EX Drivers

- 2 RCA inputs for connection to any audio device

- 18 gauge custom speaker wire with banana plugs

- Includes speakers, amplifier, speaker wire, RCA to 3.5mm cable, power cable
For the audiophiles among us, the benefits of speakers like these could end up being well worth the cost. Grovemade and Roth say they designed these speakers with acoustics in mind the entire time, and when you see the cross section of the speaker shell itself, the inspiration they took from the design of concert halls is obvious. The speakers are available now from Grovemade's website and come with free US shipping, though expect it to take 4-6 weeks for delivery.
SOURCE: