Grizu's are 'Hot-to-Trot'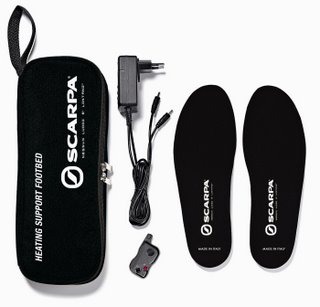 Say goodbye to frostbitten toes and hello to Scarpa's soon to be released Grizu. Grizu's are remote controlled heated insoles for your feet. They fit any shoes with interchangeable insoles and are waterproof. It's the perfect accessory to any winter wonderland walks.
The lithium battery inside the Grizu can stay charged up to seven hours and will keep your feet a toasty 38° C. The battery charger comes with a double outlet so both insoles can be heated at once. It seems they thought of everything.
The insoles will be priced at approximately $250 and could make a great seasonal gift. Not only are they smart outdoor wear they could also be a great help for people with poor circulation do to age or illness.
Scarpa Heated Footpads [via Trail Gear]