Gotta Juice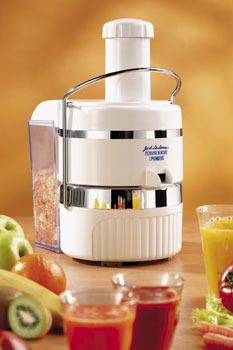 An exciting thing happened to me the other day. I received a Jack Lalane Elite Power Juicer to review. Having seen infomercials telling me that 'you gotta juice' it was time for me to finally take the plunge. Apparently, the nutrients in fresh vegetable and fruit juice not only nourish your body internally but also externally for healthier looking skin.
So, armed with $60 worth of fresh fruit and veg, I rushed back from the supermarket to play with my new toy. Assembly of the Jack Lalane Juicer was relatively straight forward and I couldn't wait to get juicing.
Several carrots later, I had a whole glass of fresh carrot juice. AMAZING!!! I have always tried to eat carrots but never found them all that pleasing to the palate. To my astonishment, Jack Lalane's juicer had turned some stubby carrots into the most delicious juice I could remember drinking, and the pulp was neatly extracted into a bin attached to the reverse side of the machine.
From that moment I knew I was going to be hooked!
Cleaning of the machines components was relatively straight forward. The only thing I didn't like about disassembly and re-assembly is that you are required to use a small spanner like device to unlock and lock the filter and blade. Without this device you can not clean the machine's parts.
Sadly, several glasses of juice concoctions later, the Jack Lalane Elite Power Juicer stopped working. One second the machine was wuurrrring happily away, the next it stopped working. It reminded me of the time I dropped my cell phone in the toilet. The vibrating ring tone just faded away.
Now, I like to think of myself as being pretty tech savvy. Even I have been known to assemble the most complicated cell phones without R.T.F.M. So here I am with $50 worth of fruit and veg and a broken Jack Lalane Power Juicer. I read and re-read the user manual in an effort to find a way to reset the machine. I followed all of the troubleshooting steps but the machine still didn't work.
It was time to call in reinforcements. I have a close friend that should have her own television show. Let's call her MISS TOOL TIME. She has been known to make me feel like a housewife when she turns up with her utility belt and tool kit to effortlessly replace a shower head. If anyone could fix it, she could. So MISS TOOLTIME read and re-read the trouble shooting guide. Disassembled and reassembled the machine several times but it was definitely dead!
To my dismay, the machine had reached the end of it's lifecycle after juicing only $10 worth of fruit and veg!
I have to hand it to the Jack LaLane marketing team. Getting me to taste fresh juice from their machine was akin to sticking a needle in my arm. I was going into withdrawals and the Jack Lalane customer service center was closed for the weekend. What the F**K was I going to do?!
MISS TOOLTIME and I swung into emergency action. We went online to see if perhaps there was a way of resetting the machine that we had missed, or where we could go to replace the machine. Since the Elite Power Jucier is new to the market it is only available online. No shops in my area seemed to stock it. So we found ourselves reviewing articles on competitive juicers. 24 hours later, the Jack Lalane marketing team had sold me on why I could no longer live without fresh juice but had inadvertently pushed me into the clutches of a competing brand, the Breville 800 Fountain Elite.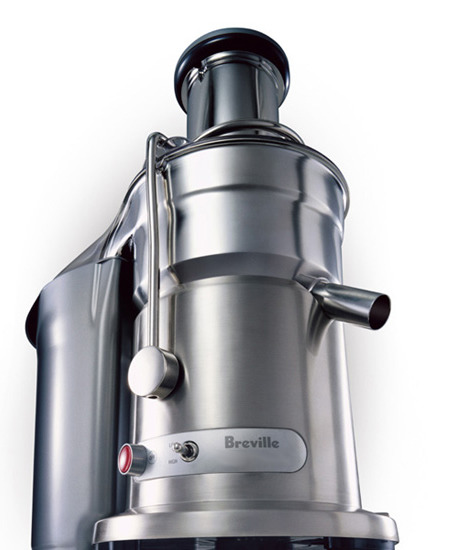 I can only describe the Breville 800 Fountain Elite as the Rolls Royce of juicers. Assembly was very easy and its aluminum construction is very pleasing to the eye. There were no spanner like devices to install and uninstall the filter and blade. Cruising at 13,000 rpms (compared to Jack Lalane's 3,600 rpms) this jet engine of a juicer is by far my favorite gadget to date.
Although, we never did work out why Jack Lalane's machine stopped working, their customer service center agreed to replace the machine and promptly sent me another one.
In the end, I am of the opinion that both machines process great juice. Jack Lalane's Elite Power Juicer costs around $150 plus tax while Breville's 800 Fountain Elite Juicer cost $299 plus tax. So there is a big difference in the price. However, Breville's Juicer really looks professional grade and it is easier to clean and assemble. If you are one of the types that feels that you need to put your juicer away after each use, then this is not for you. Not only will you probably never use it but it is bulky to move around. I prefer to have the juicer in the kitchen as a readily available working appliance.
Leading a healthy lifestyle and diet can be very costly. Having this juicer at home is not only very convenient but I really believe that it has almost paid for itself already. I have been juicing everyday, twice a day since Jack Lalane first introduced this concept. Perhaps its psychological, but I really feel a marked improvement on how my body feels. If you don't believe me, take a look at how well 90 year old Jack Lalane looks, or better yet try it for yourself. I'd really like to thank Jack Lalane for helping me achieve some greater awareness about what I put into my body. I'm only sorry that in the end Breville scored higher in my user rating.
I hope you find this review helpful. You gotta juice!