Gothic Flash Drives - They'll Store Memory And Suck Your Blood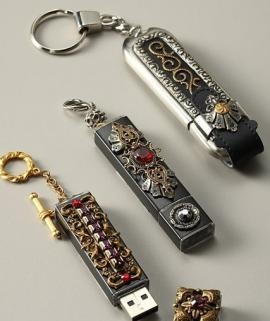 Everyday flash drives get a makeover. I've seen them in every shape, style, color and otherwise. I've seen them disguised as other objects and adorned with different gadgets. I have no doubt in my mind that the days to come will bring only more of the same.
Neiman Marcus continues this trend with these 'gothic' style flash USB drive. They are part of the Jo Marz designer collection and appear to come in a few styles/colors. They hold 1GB of memory and cost just less than $100.
Despite the price, this is one USB drive I could actually see myself carrying. I rarely buy things just for the looks but I might this time if I ever get near a Neiman Marcus, which will be never as it is.
Even Vampires can use a little flash memory [via Crave]