GoPro launches new HD Hero2 digital camera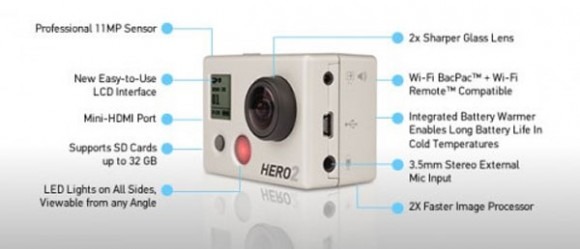 I have had a GoPro Motorsports Hero HD camera for a long time now. This tiny camera supports HD resolutions and comes with a suction mount for attaching to a car. It's a very cool little camera, with a very confusing menu system. Each time I want to change resolutions I end up digging for the instructions. GoPro has announced a new version of this little camera in three styles called the HD Hero2.
The biggest change for usability is a new menu system that makes the settings plain language rather than numerical. That means you can change settings on the fly much more easily. The new camera gets an 11MP image sensor, 2x sharper glass lens, a 3.5mm stereo external mic input, and a mini HDMI port. The image processor inside the camera is also 2x faster and it has an integrated battery warmer for longer life in cold temperatures. The camera also has improved professional level low light performance and can take 10 11MP images in a burst with a photo ever 0.5 seconds in timelapse mode.
The cam has more modes with Full 170-degree, Medium 127-degree, Narrow 90-degree FOV in 1080p and 720p Video. That means you can take video in more resolutions without the fisheye effect many find annoying. The camera also offers 120 fps recording in WVGA, 60 fps in 720p, and 48fps in 960p, with 1080p only getting 30fps. The camera is compatible with all existing accessories and supports Wi-Fi video and photo preview via the GoPro app. The camera comes in HD Hero2 Outdoor edition, HD Hero2 Motorsports Edition, and HD Hero2 Surf edition versions at $299.99 each. The original camera now sells for $199.99 to $239.99 depending on the version.