Google Play Edition GALAXY S 4 and HTC One smartphones arrive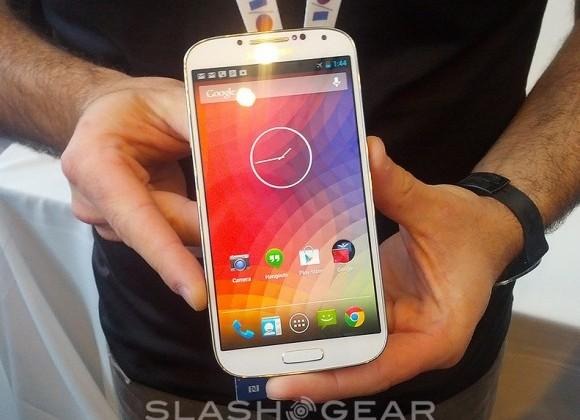 If you had been waiting for the Google Edition smartphones to come available — today is your day. The stock Android running Samsung GALAXY S 4 and HTC One have recently landed in the Play Store and according to the details included in the listings they are both are set to ship soon. Or more specifically, both handsets are showing a 'ships by' date of July 9th.
As these were both previously announced some of these details come as simple reminder. For example, the GALAXY S 4 is priced at $649 and the HTC One is priced at $599. Both models are being offered with free shipping. Perhaps more important though, both are running a stock Android 4.2 installation and come with the promise of updates that are not hindered (delayed) by the carriers.
Google tells the update story as follows;
"The Google Play edition phones automatically receive updates of the latest Android software. Optimized for the latest apps, more storage for your content and a fast, clean user experience all come standard."
These Google Edition handsets are being sold unlocked and they will each work with T-Mobile and/or AT&T. The one drawback we see at this point comes with the availability. For now both of these models will be available only for those in the US market.
As a recap on the specs, those looking towards the GALAXY S 4 can expect to find a 5-inch 1080p display along with a Snapdragon S4 Pro processor, 2GB of RAM, 16GB of internal storage, a 2600 mAh battery and 13 megapixel rear-facing camera. The HTC One has a 4.7-inch 1080p display, Snapdragon 600 processor, 2GB of RAM, 32GB of internal storage, 2300 mAh battery and the HTC UltraPixel camera.
While the HTC One seems like a good option with the lower price and double the storage (as compared to the GALAXY S 4), we do have to remind you there will not be any microSD card. The GALAXY S 4 has only 16GB (slightly less) available internally, however there is a memory card slot that supports cards up to 64GB in size.
SOURCE: Play Store (GALAXY S 4), Play Store (HTC One)