Google Offers Beta Daily Deals Hitting 5 New Markets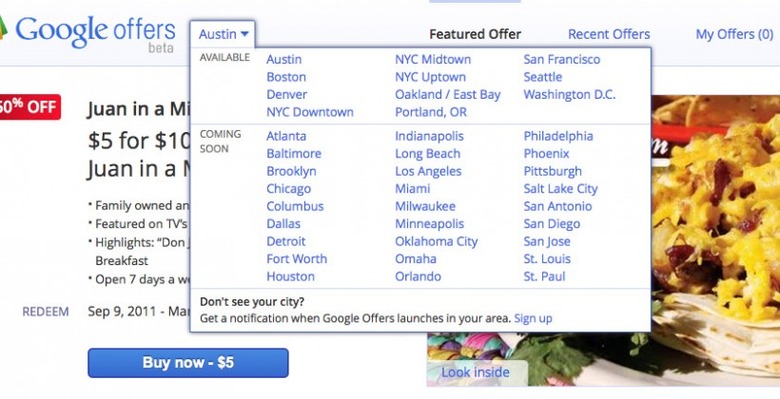 Google Offers Beta is expanding to five new markets, with the first daily deals in those markets redeemable starting tomorrow. The service was first launched back in June in Portland, the Bay Area, and New York City. Now it will be adding Austin, Boston, Washington D.C., Denver, and Seattle.
To give you an idea of what Google Offers has to offer, the first deal in Austin will be a $5 voucher for $10 worth of food and drink at a popular local Mexican restaurant, Juan in a Million. In Boston it's gourmet ice cream from Toscanini's Ice Cream, again a $5 for $10 deal. Washington D.C. deal seekers get a $3 for $6 offer on Falafels from Amsterdam Falafelshop. And in Denver, users can get $20 worth of merchandise for $5 at three retail locations of the Tattered Cover Book Store, while Seattle users can pay only $9.50 for a $19 one-day admission to the Seattle Aquarium.
The Offers service is Google's answer to Groupon after the search giant's plans to acquire the daily deal site for $6 billion fell through. For those of you not located in any of the supported markets, you can still sign up to get notifications should the service roll out in your area.
[via Google]