Google+ Hangout With Black Eyed Peas Will.i.am ON AIR Now [See The Live Video Here!]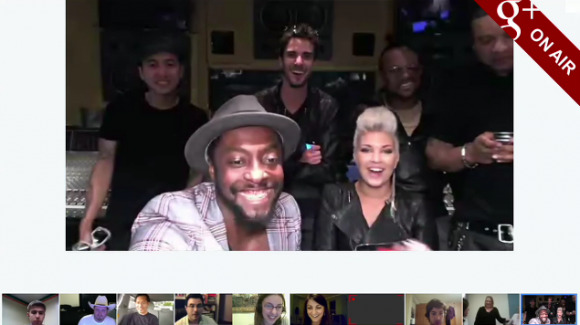 As promised back when the upgrade to Google+ was made in regards to Hangouts functionality specifically, will.i.am of the Black Eyed Peas is currently (depending on when you see this post, I suppose) broadcasting live. He and several of his best buddies are sitting in a beat laboratory where he's doing some dances, posting to Google+ on his own phone (looks like a BlackBerry, shame on you!) and chatting about what they're chatting about. It's surprisingly entertaining, believe it or not – see it below right this second – what a wacky lovely promotion!
In addition to this event, Will has promised a September 30th broadcast as well when the Black Eyed Peas will be playing at Central Park and broadcasting the show. Also Vic Gundotra is there and everyone is having an awesome time hanging out. The biggest event to happen thus far is the technical difficulties resulting in a massive overload of people joining to ask questions. Check out the fun here!
LIVE VIDEO
UPDATE: The Hangout broadcast (at least this first one) is now officially over. I think Google will rack this one up as a pretty big success, especially since the majority of the people joining to hang out seemed to genuinely just want to have a little chat – not one crazy person in the bunch! That said, sometimes crazy people joining a Hangout is quite fun, so should you see us here at SlashGear holding our own broadcast in the months to come, don't be surprised if there's some yelling.