Google Gets AdWords Smackdown From Australian Court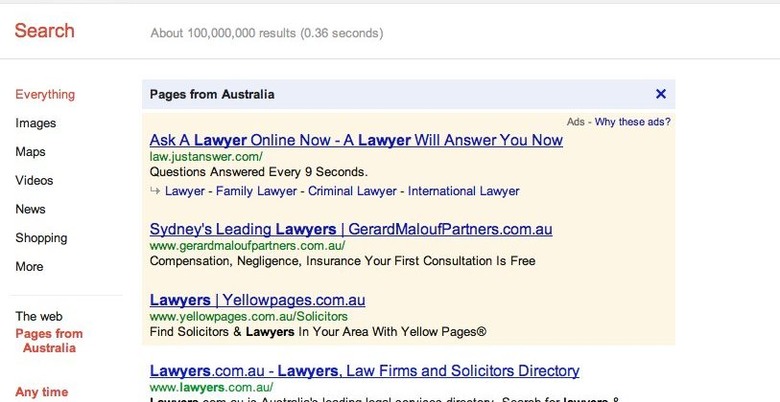 Google has received a spanking from Australian regulators, with the search giant deemed responsible for advertisers who use AdWords to promote themselves in a misleading or deceptive way. The company must develop a "compliance program" to vet new advertisers, the Sydney Morning Herald reports, after losing an appeal in the Australian Federal Court earlier today. Google will now be forced to ensure adverts can't link to one site while seeming to represent a different one, among other things.
The appeal was against a September 2011 ruling in Australia that initially found Google responsible for four cases of misleading and deceptive practice. The search firm "erred in failing to conclude that Google engaged in misleading and deceptive conduct in four cases" it was decided at the time, with one of the examples cited being a third-party car dealer that posted adverts seemingly linking directly to Honda Australia but in fact brought browsers to its own pages.
Google, meanwhile, maintains that the buck stops with the advertisers themselves, and that it has no place vetting them. "We believe that advertisers should be responsible for the ads they create on the AdWords platform" the company said in a statement following the decision, Google supposedly "disappointed" at the ruling.
Exactly how the new "compliance program" will operate is unclear at this stage. Google will presumably have to test links to ensure that they match the URLs shown in the advertisements, a process that could likely be completed automatically. However, it's also uncertain how the Australian decision might impact Google's liability in situations where users feel deceived, and whether the search company could be held responsible for individual cases of fraud.
Australian regulators claim they specifically picked on Google so as to send out a message to Bing, Yahoo! and other search providers that they had certain responsibilities. "Google and other search engine providers ... will be directly accountable for misleading or deceptive paid search results" Australian Competition and Consumer Commission chairman Rod Simms said. "The ACCC brought this appeal [against Google] because it raises very important issues as to the role of search engine providers as publishers of paid content in the online age."