Google Cr-48 Chrome OS notebooks being delivered today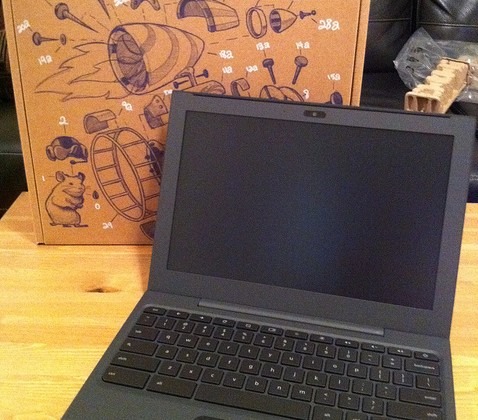 Google's Cr-48 Chrome OS notebooks are already showing up with early registrants to the Chrome OS pilot program. Announced on Tuesday this week, a Cr-48 has arrived on the step of SeatGeek comms director Ben Kessler.
According to Kessler, "the build quality on the Cr-48 is mostly great, all rubberized plastic but the damn battery doesn't sit flush with the bottom." Google has purposefully left the 12.1-inch notebook generally unmarked and logo-free, targeting it solely at pilot users while commercial variants from Acer and Samsung are expected in mid-2011.
Previous leaks have suggested that Google ordered around 60,000 Cr-48 notebooks from OEM/ODM Inventec, though the search giant has warned that stocks are limited and not everybody who applies will be successful. The online application process is in part a test to see how web-centric your daily PC activities are, important given the cloud-nature of the Cr-48.
Kessler isn't the only person to have received a Cr-48, with a quick Twitter search turning up at least two others claiming to have taken delivery today.
[Thanks Tony!]