Google Apps For Your Domain: Ready, Set, Stop!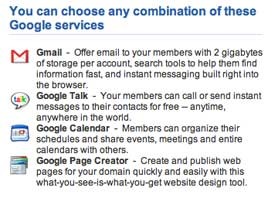 At first glance, Google Apps for Your Domain looks fantastic for small to medium size businesses. It's hard to pass on anything that's free from Google. What can be better than free email, free scheduling package, free Office tools such as Page Creator, Writely and Spreadsheet? Well, the freeness in Google's offerings comes at a price – privacy and flexibility. Before taking the leap of Google faith, take a close look at the privacy disclosure. Proceed with caution if you don't see any immediate red flags popping up. I sure did after finding out that we must change our MX records to point to Google's servers. Thank you, but no thanks Google.
Google wants Microsoft's lunch, not to eat but to throw back into their face. As Michael Arrington of TechCrunch pointed out, "This is a bold move Google. They are striking hard at nearly $12 billion/year Microsoft revenue stream." It's clear that both companies are approaching this from different positions. So, it's still yet too early to determine which approach will win, until Office 2007 and Vista hits the market and Google reveal more of its offering.
Zoho is also building a competitive online office suite of its own. I wish them the best of luck, going up against the two giants.