Google And China Feuding Again, Gmail Blocked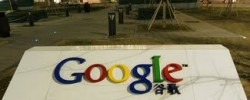 Google and China have had a problematic history with one another and it looks like it could be getting worse. The tech giant has confirmed today that the problems some Gmail users have experienced these past couple of weeks are the result of the Chinese government's interference, the problem does not stem from Google's side.
"There is no technical issue on our side; we have checked extensively. This is a government blockage carefully designed to look like the problem is with Gmail," the official statement from Google reads. Gmail users reported they could log on with no disruption but had problems sending and receiving emails and many other basic functions. The users afflicted with the problem were random as well as two people could be sitting next to one another and only would run into this error.
There was also some troubling news that Google noticed some of the motivated attacks against Gmail users may have been "politically motivated." Some attacks were against political activists and users of another popular social site. Google had to change their Chinese search engine in the past when Google.cn used to provide censored results at the request of the Chinese government, but last March users were redirected to Google.com.hk after Google discovered many attacks were made on human rights activists' Gmail accounts originating from China.
[via TechCrunch]