GOG Galaxy "Steam killer" in beta, everything is optional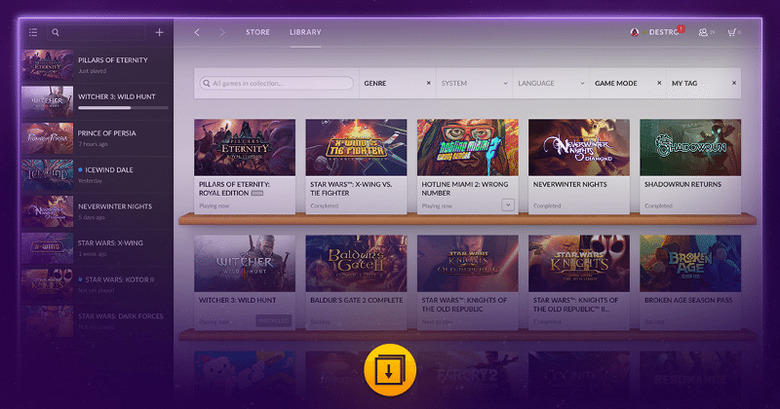 When it comes to PC gaming and distribution, perhaps no name rings louder than Steam. Despite that, not everyone is happy to put all their eggs in Valve's basket, especially when the question of DRM comes up. GOG, which doesn't just do Old Games only anymore, has always challenged that business model and now it's preparing to hit Steam where it hurts the most. After nearly a year since it was first revealed, GOG Galaxy is now partly out of the woodwork, taking everything you might have loved about Steam and making them completely optional.
Aside from the largest catalog of games on the Internet, Steam has a few more features that you won't easily find in a single spot. Friends, game tracking, updates, achievements, and even multiplayer are some of the things that get developers and gamers hooked onto Valve's gaming platform. But all those come at the price of being locked into Steam's DRM garden, a technology that is antithetical to GOG's mission. But GOG admits that those are definitely nice things to have, and so GOG Galaxy was born.
Although still in open beta, Galaxy already offers the Steam essentials, without being locked into DRM. You've got staples like friends lists and chats and in-game achievements that you can brag about, and a single app for installing all your purchased games. But you've also got important ones like auto-updating games instead of having to manually compare versions and downloading them yourself. A future feature will allow users to actually rollback those updates in case they break the game or just because you want to. One very interesting feature is "Crossplay", which lets players go online with other players, whether they're using GOG Galaxy or Steam. Of course, this works for supported games only.
The best part about GOG Galaxy, at least for firm believers of GOG's philosophy, is that all of these are optional. You can turn on or off each single feature as you desire, or even not use Galaxy altogether. Nothing changes in the way GOG does its business, but now users have another and more convenient option, should they want to take it. Just as GOG customers have full control over their DRM-free games, they too have full control over Galaxy.
One thing to note, though. The beta is available only on Windows and Mac for now. A Linux version is promised, but GOG doesn't exactly have a track record in quickly supporting that operating system. And while GOG can't boast of the same vast inventory as Steam, except when it comes to Old Games, it has been working on adding fresh new games to its catalog, with The Witcher 3 being the first big name to support GOG and its Galaxy.