GetJar Gold Challenges Amazon Appstore With 50 Android Freebies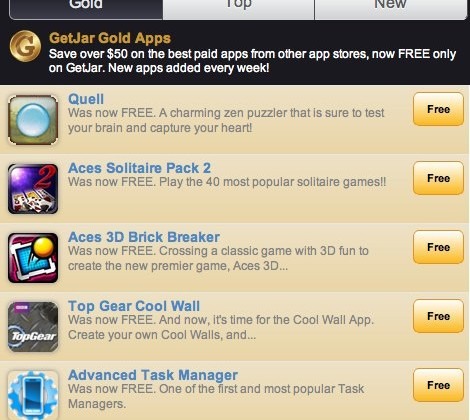 GetJar has launched GetJar Gold, offering over $50 worth of Android apps for free in an attempt to take on the Amazon Appstore for Android's "free app of the day." According to GetJar, the intention is to add new apps daily: at launch, it includes Age of Zombies, Fruit Ninja THD and Advanced Task Manager, with certain apps being sponsored by the developers to appear higher up the list.
GetJar CEO Ilja Laurs told TechCrunch, meanwhile, that the company has another "recognizable" heavyweight mobile app developer about to sign up as well, though won't say who it is. Given the company has worked closely with Angry Birds developer Rovio in the past, however, there's speculation that the flying feathered characters may well be the next to go Gold.
Seeing as a percentage split on app revenue doesn't work when you're giving the software away, GetJar will pay developers per install. Sponsored apps, meanwhile, will be handled in a similar manner to Google's AdSense, with developers choosing how much they want to pay per install (from a cent to two bucks); more money means more obvious placement.
You can access the GetJar Gold site to download apps, or install the dedicated Android app itself.