Get your iPhone ready for the iOS 9 update Wednesday: here's how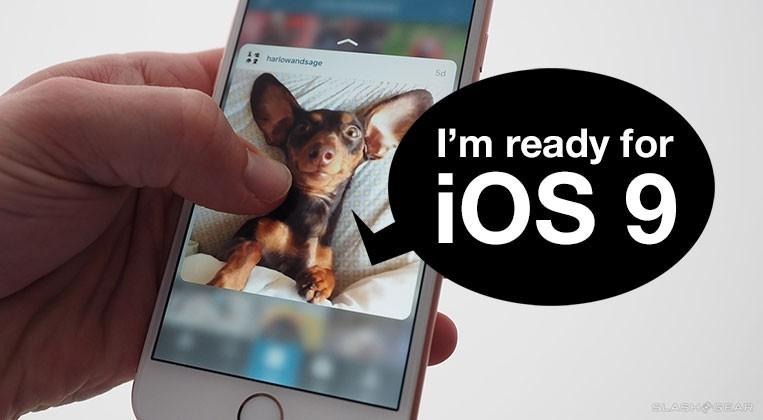 This Wednesday iOS 9 will be released – that's the newest version of the software operating system for your Apple mobile device. This software is made for your iPad, your iPhone, and your iPod Touch. If your device can run iOS 8 naturally, it'll be able to run iOS 9. This goes back to the iPod Touch 5th generation, iPad Air (1), iPad 2, and iPad mini. The oldest iPhone that can run iOS 9 will be the iPhone 4s.
Step 1: empty out your device
The other way to say is is: back your device up. Plug your iPad, iPhone, or iPod touch into your computer and start up iTunes. Inside iTunes you'll want to select your device along the top of your iTunes window (if it's not already popped up automatically), then inside the "Backups" page press the "Back Up Now" button.
You'll want to get all those photos off your device, most importantly. Likely everything else you have on the device comes from the cloud, anyway.
You can just leave the photos on your device after you've backed them up, or you can delete them. This is mostly a precautionary measure.
Step 2: charge the device
You'll want to have your device charged all the way up to download and load this update. You could potentially have the device plugged in when the time comes, but you won't be able to load the update – even if you are plugged in – until you're mostly charged.
Step 3: download and load
Staring Wednesday the update to iOS 9 will be available for all devices. You'll find this device in settings – but you'll probably just want to wait for the notification to come and tell you you're ready to roll.
Downloading and loading on day 1 is possible, but you might just want to wait a few days to make sure all potential load issues are ironed out – then no worries for you!