As people grow more used to reaching out and stabbing at displays with their fingers, the all-in-one touchscreen PC market keeps expanding. Gateway could almost be considered stalwarts of the segment; their latest model is the Gateway One ZX6900-01e, a 23-inch Full HD desktop packing Intel's latest Core i3 processor. But is it a touch of genius? Check out the full SlashGear review after the cut.
In this latest iteration, Gateway have certainly made the ZX6900-01e reasonably living room friendly. You could almost mistake the black and silver plastic chassis for one of a regular TV, though annoyingly there's no integrated TV tuner to actually use it as such; for that you'll have to wait for a new model, due sometime this month, which also bumps the CPU to a Core i5 650 chip.
[sgbenchmark id=98 show=system]
Instead, here there's an Intel Core i3 530 processor running at 2.93GHz (from Intel's desktop range, rather than their notebook line-up), paired with GMA HD graphics, 4GB of DDR3 memory and a 640GB 7,200rpm HDD. In the side of the casing is a slot-loading Blu-ray player (that doubles as a DVD burner), while up front is a 1920 x 1080 23-inch widescreen display. Gateway are quoting 300 cd/m2 brightness, a 5ms response time and 1,000:1 contrast ratio. It's certainly bright and reasonably crisp; meanwhile the touch system is very responsive and accurate, though Windows 7 Home Premium remains a less than finger-friendly OS. We wish Gateway had developed some sort of touch-pack customization that ran on top, at least for multimedia and internet access.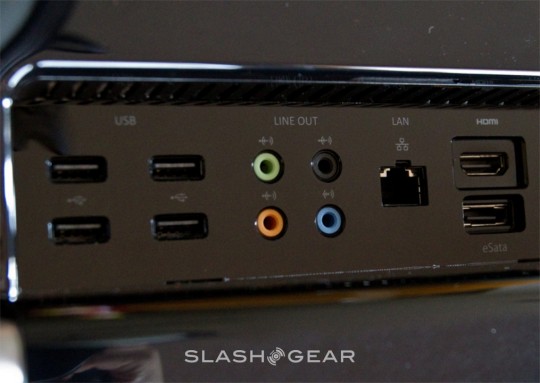 Connectivity, meanwhile, includes WiFi b/g/n, gigabit ethernet, six USB 2.0 ports – two on the side, four on the back – eSATA and HDMI, along with a multi-format memory card reader. We're a little disappointed not to see an HDMI input – which would allow you to easily use the ZX6900-01e as a display with your games console – though the native 5.1-channel audio support is handy. Obviously you'll need a suitable speaker system, though, since alone the ZX6900-01e only has a pair of average-performing 5W speakers for basic stereo. Happily the Blu-ray drive is pretty quiet in use, and so even the integrated speakers are enough to listen to movie soundtracks without straining your ears.
We used Geekbench to put the ZX6900-01e's hardware through its paces, an artificial benchmark that gauges processor and memory performance. The all-in-one scored a very respectable 5313 altogether, surprising us in fact. That score also holds true for day-to-day use, with the Gateway proving responsive in pretty much everything we threw at it. With the integrated Intel graphics this probably isn't the machine you'd turn to for video processing, but internet access – including playing 1080p HD YouTube content – together with local HD video playback and multitasking turned out to be a walk in the park for the ZX6900-01e.
[sgbenchmark id=98 show=score]
At $1,019.99, the ZX6900-01e is larger and cheaper than Apple's entry-level iMac, as well as packing touch and Blu-ray which aren't even options on the OS X machine. Still, their respective target audiences seem very different, with the Gateway One feeling more at home in a family, multi-user environment. The addition of a TV tuner would make this one of the best choices for kitchen PC around, though of course there's always a USB tuner if you can't wait for Gateway's updated model (or don't want to pay more for a Core i5 CPU you might not use).
Frankly, with the surprising level of performance the Core i3 CPU delivered, we reckon most people would be better off adding that cheap USB tuner and opting for the ZX6900-01e. Multitouch works well – despite us wishing there was an operating system that made better use of it – and everything you'd expect from a family PC was delivered in spades. As a package, the Gateway One ZX6900-01e surprised us with its completeness; you can't really ask for more than that.