Gateway FX6800-05 review : Intel 80GB SSD, i7 940, plus ATI 4870 X2's gaming rig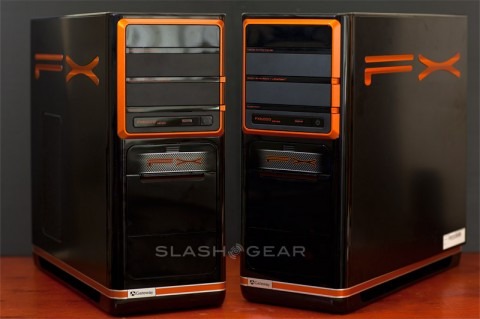 Gateway's FX6800-01e was the first i7, Nehalem, Quad-Core processor PC we tested, and its performance boost over the previous Core 2 architecture was obvious. That was the company's lowest FX-series rig with Nehalem/Bloomfield; today we have the highest model in the FX-series, the FX-6800-05 desktop, to review. Gateway's ultimate gaming rig sports high end components built upon the Intel's i7-940 2.93Ghz, ATI Radeon 4870 X2 graphics, 6GB of DDR3 memory, and last but by no means least, an ultra-fast Intel X25-M 80GB SSD. All that will cost you around $3000 retail, so the big question is whether this Gateway is worth the asking price?
The FX 6800-05 shares the same 31lb shell as the 6800-01 with a fingerprint-magnet piano-black plastic finish, unexciting color scheme with orange metallic accents and cheap construction. On the plus side, it's cleverly designed with many connectivity options that are useful and well hidden. There's one multimedia card reader in a pop-up hatch on top of the case, a pivot-out bay with microphone and headphone jacks and a 400 Firewire socket, and a pair of hot-swappable SATA bays behind a top-down sliding door. Unfortunately, they're poorly assembled and difficult to operate. The slide door managed to both rattle and be stiff to open, while the hide-away top panel was simply impossible to release without a fist.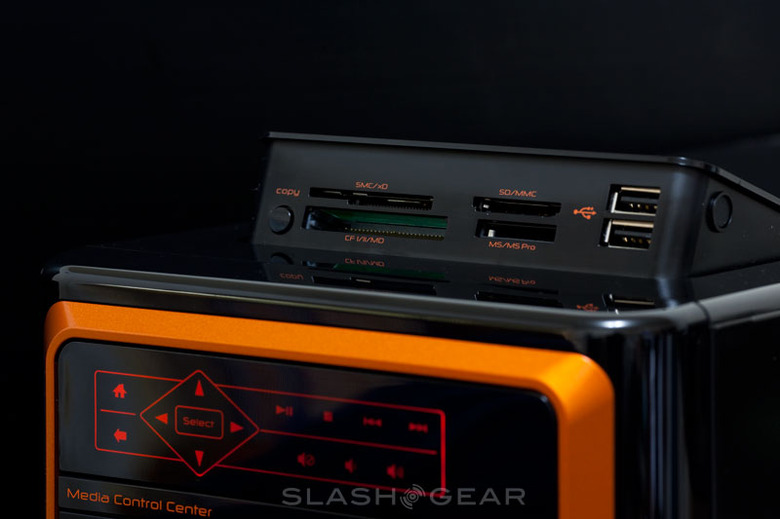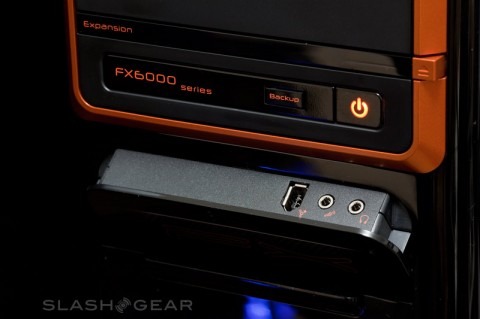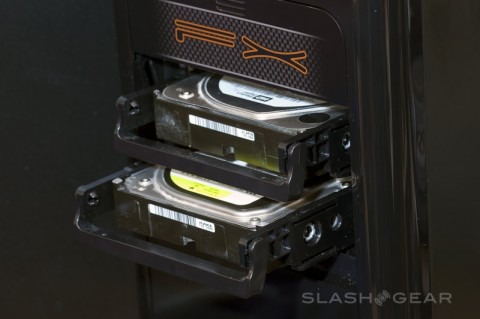 Nevertheless, we like the simplicity of Gateway tool-less SATA hot-swappable drive bays. They slide in easily and the fit is perfectly in-line with the backplane; there's no quicker way to slam in additional storages than this Gateway. The 15-in-1 media card reader has a copy button and comes with an app to reassign archive file location: with a click of the button, it transferred 8GB of 21-megapixel digital camera images at nearly the same rate of 21.9 MB/s to both the 1TB and SSD drives. An 8GB Sandisk Extreme III 30MB/s card was used in the test.
The first drive bay features a touch-panel multimedia controller, with a grid of orange-backlit buttons. They glow beautifully and are easily visible even in bright ambient light conditions, but we question its usefulness. In our tests, not only were a few of the buttons reluctant to work, there were also a few hiccups while navigating a DVD. Also, desktop PCs are more usually positioned low down on the floor; I'm less inclined to browse a movie at that level.
Inside the case there's a 1000-watt power supply and chunk of cables with little room to breath. The cables are neatly tied but the case is simply too small to accommodate them all; in addition, the presence of the extra long and beefy 4870 x2 video card obviously didn't help. But there's no 'small' alternative in the graphics department to the dual GPU 4870 x2 with 2GB of GDDR5 RAM. That thing is a beast and requires an extra bracket to hold it stable.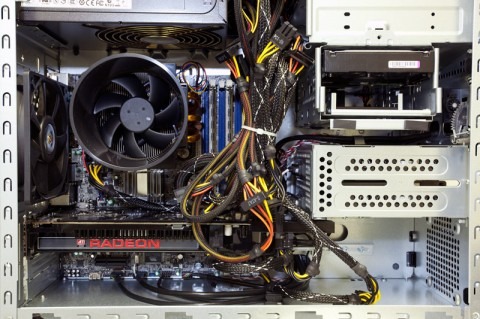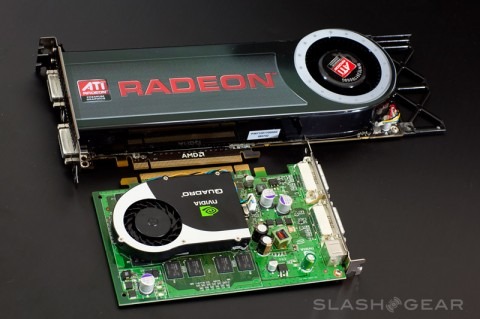 Hard drives are mounted sideways in a removable cage, and accessible only from the side door. Removing one will require both doors to be unbolted, as the SATA cables are fitted tightly and only reachable from the other side of the door. Cooling includes one 120mm exhaust fan, one 120mm PSU fan and the processor has a side-intake CPU fan on top on a heat-sink. With its relatively thick heat pipes to dissipate excessive heat from the CPU, the Gateway gives you a small taste of custom air cooling.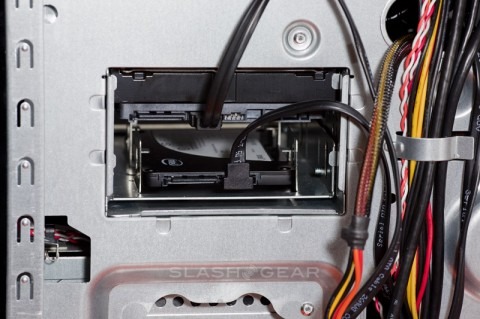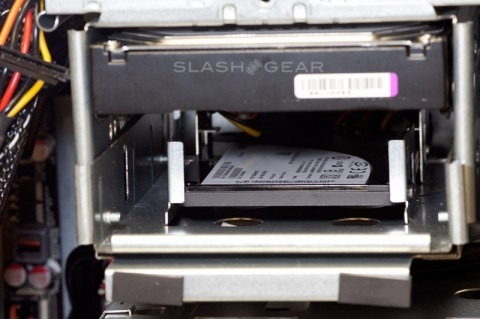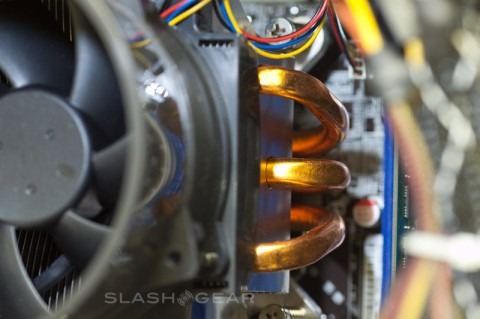 A set of color-matched mouse and keyboard comes standard with the system. Like the case, they're basic, lightweight and not exactly premium accessories. Also, there's a pair of USB bus-powered speakers with a plain black finish: they're small and, predictably, lack low-end response, but are well controlled for noise and distortion, better suited for vocals and provide plenty of sound in a standard-size game room.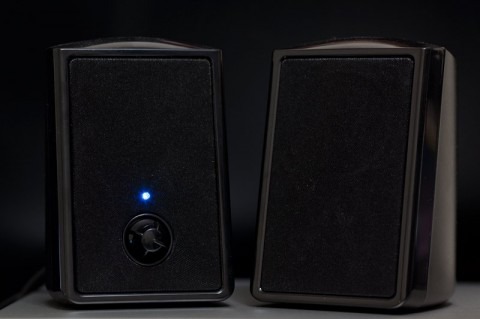 Benchmark
With design out of the way, we focused next on system performance. The unit shipped with Intel Matrix console version 8.5 but it proved to be more trouble than it was worth; the plug-in console failed to execute, and we were given two solutions — Gateway's System recovery with a better driver, or Intel Matrix console version 8.7 — and unsurprisingly we went for the easier step. Overall, the system is extremely fast and responsive, Vista Ultimate 64-bit booted from a cold start in 1 minute 08 seconds, which included all the desktop items and toolbars. The Intel X25-M 80GB SSDSA2MH080G1G screamed in HD Tune benchmarks, as opposed to the slower 1TB Seagate ST31000340AS, but we didn't see much improvement when we tested the system with standard day-to-day photo editing tasks.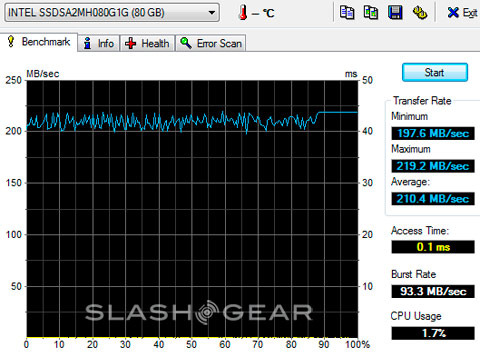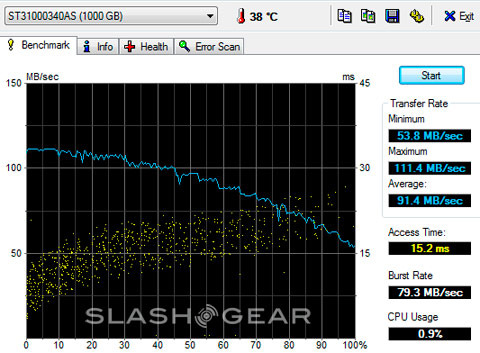 In the Photoshop retouch-artist speed test, the Gateway finished at 17.7s and 17.0s respectively in a 32-bit and 64-bit variant of Photoshop CS4. The score remained the same whether the scratch disk was assigned to the SSD or the 1TB data drive. With restricted memory – only 1.5GB assigned for the app – and bumping the image file from 8 bit to 16 bit, the 1TB was surprisingly a better scratch disk than the SSD, clocking in at a whole 6 seconds faster at 1 minute. Editing a large image file in Photoshop would put a fast hard drive to good use (as a scratch disk); by restricting the RAM, the task is executed with virtual memory relocated to the physical disk when the RAM allowance runs out.
GeekBench
With a faster processor and extra memory, we revisited GeekBench and added a Dual Xeon E5450 workstation int the group. Keep in mind that Geekbench only measures processor and memory performance, so the benefit of an SSD won't register. As expected, the advantage of DDR3 and greater memory gave the new FX twice the score in the Stream and Memory categories, but once again, it fell short in the computing department. The overall performance favored the Q9650 for the second time.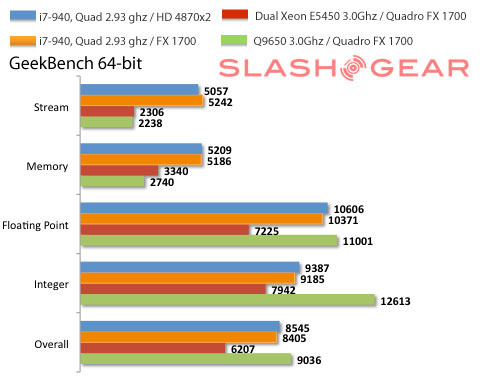 Specview 10
The Gateway's GPU isn't prepared for DCC/CAD professionals, the gaming counterparts performed poorly as expected, thus we added a Quadro GPU in our Specview 10 benchmark that's designed primarily to measure OpenGL performance. Driven by the new system, the midrange workstation-grade Quadro FX1700 was, in most cases, neck to neck with the Dual Xeon workstation, but overall a new leader was found. It also stood out in the Maya test, when it comes to extra threads, but not by an especially large margin.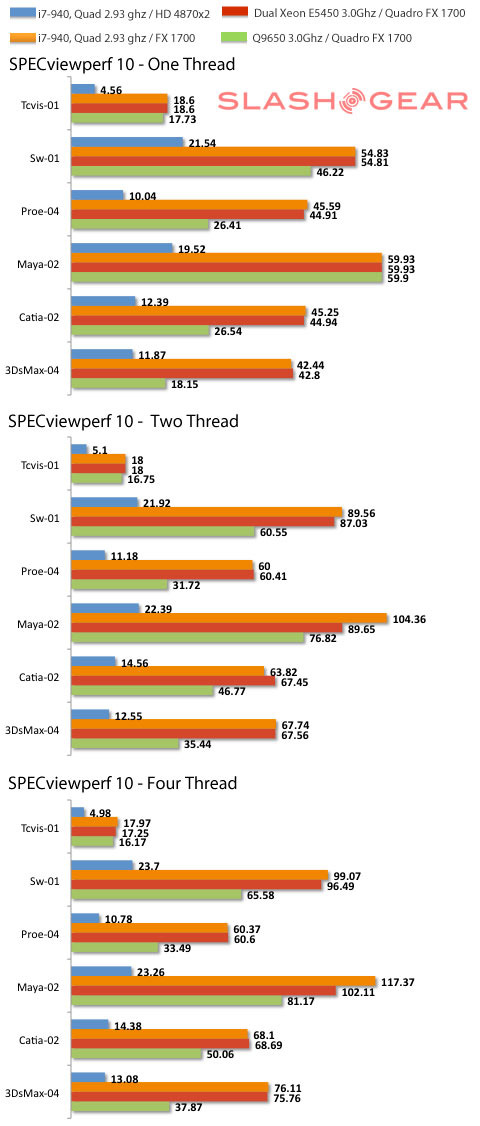 PCmark Vantage
PCMark Vantage was next on the test bench to compute the group performance at real world commonly-used Vista apps, and the i7 940 literally demolished the competition. The tool measures performance with all hardware components taken into consideration, thus the outcomes aren't particularly surprising. The addition of the Intel SSD and the motherlode of the HD4870 X2 graphics alone are enough to crush the other contestants. However in all fairness, the Fx1700 Quadro card was once again put in the mix to observe GPU affect on the overall system.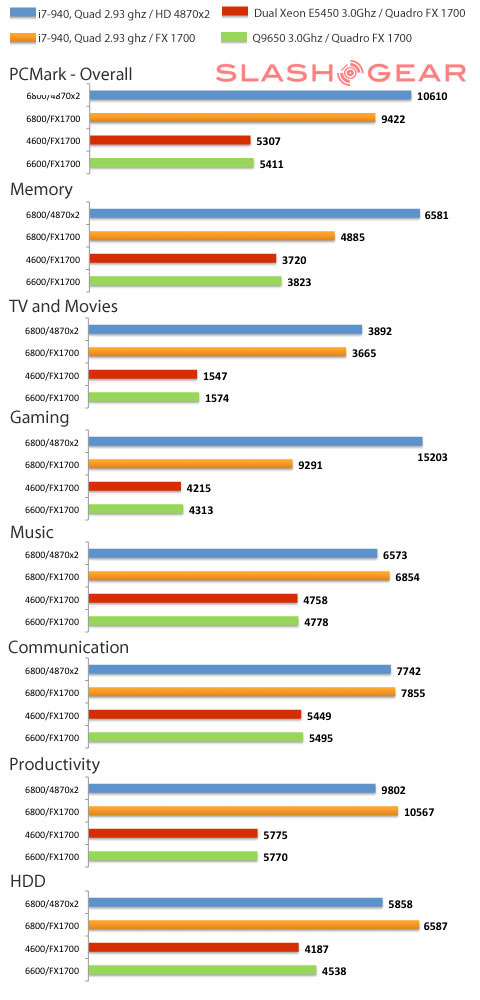 Far Cry 2
For the sake of the 4870x2 ATI HD Radeon, and since the Gateway rig is, after all, an overly qualified set-up for gaming purposes, we tested it with the Far Cry 2 benchmark tool, before spending an arduous few hours on the graphic intensive FPS; it was time well spent!
We ran a number of test sets at three resolution settings — 1280x1024, 1680x1050 and 1920x1080 — at DX 10 and Ultra High quality for 3 loops each. Anti-aliasing was set to 0x for all three resolutions, then 8x for 1920x1080. The system scored an impressive 77 fps (average) and maxed out at around 120 fps. Results show setting the system at 0xAA has no impact at any resolution, but a much more aggressive 8xAA setting brought the score down to 44 fps (average).
In the real world, the 8xAA setting was playable but dropped frames at particularly rapid scenes. That happened less frequently with the resolution backed down to 1770x1000, and completely disappeared at 1280x720. Frankly, shuttering was only one issue; I was much more concern with the fan noise. Full HD at 0xAA had no issues whatsoever. Far Cry's Dunia Engine has the reputation of benefitting from a fast CPU and multi-core system, and Gateway definitely delivered both.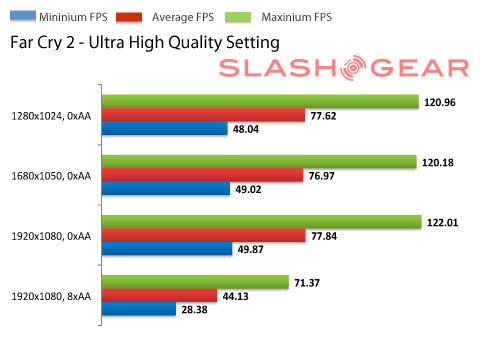 Conclusion
When it comes to ergonomics and design, the Gateway FX-series 6800-05 PC certainly has lots of room for improvement; like many PC systems, it has its share of minor complaints and problems. Make no mistake, though,the highly polished implementation of Intel's Nehalem/Bloomfield platform leads to a power gaming rig built exclusively for need-for-speed gamers. Driven not only by Intel's hotrod CPU and solid -state drives under the hood, but also a dual GPU graphics wet-dream with 2GB of discrete video memory, the gaming rig is also easier converted to a 3D rendering studio or professional CAD workstation with a proper graphics card.
The prefigured configuration leaves little room for options, hence the asking price of $3000. However we couldn't help but wish for a little more upgrade room inside the cramped case. Nonetheless, if you're looking for a high-performance PC, and you have a suitably dark place to hide it, the Gateway FX-series 6800-05 deserves your consideration.
(update on Gateway FX6800-05 availability, check selected online retailers here)