Garmin VivoFit review: a good start for wearables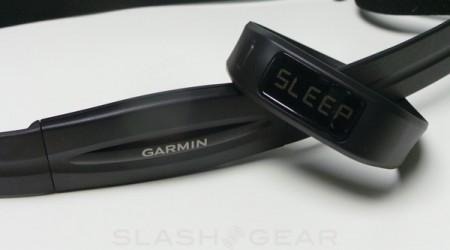 Within the blossoming smart wearables market, the battle for the real estate on your wrist is getting intense. With the Garmin VivoFit, many of us will have our bases covered. It keeps track of your activity levels adequately, and the sleek styling makes it wearable in just about any circumstance. Is the VivoFit comparable to the crop of current wearables, though? We go wrist-on to find out.
Hardware
The Garmin Vivofit has a nice bit of subdued class to it. The black band is a rubberized material that looks sleek enough to wear daily. The display isn't backlit, which causes its own set of headaches (more on that in a moment), but also keeps the styling subdued. The wristband is swappable, and two sizes come in the box. Don't worry about it falling out, either — it's snug in there, and fairly difficult to remove without effort. There are no bright lights flashing on or off, and no sound emanating from the wearable. The clasping feature of the band is also really nice — stylish and low-key, just like the rest of the kit.
We tested the Garmin Vivofit Plus, which comes with a heart monitor. The heart monitor is equally stylish, but straps around the chest, so you're less likely to have anyone see that while standing in line at the grocery store. It's still pretty sleek, though, and as comfortable as a chest-strap can be. There is also a really small USB dongle that's used for syncing the device(s) to your desktop, though we preffered the mobile sync for convenience.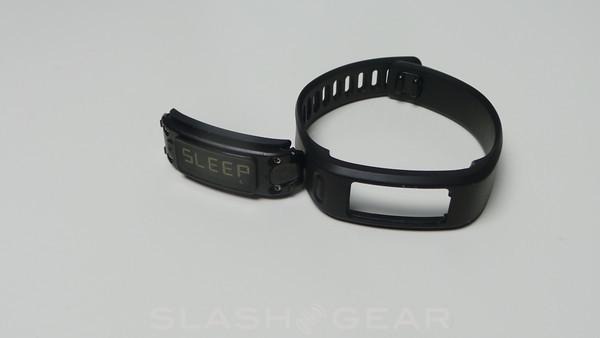 Software
The Vivofit is unique in that it has no on-board software to speak of. The display simply gives a snapshot of your activity level, and doesn't have much in the way of a UI. The simple interface means you'll have to sync it, but that's where the Vivofit finds a near-unique niche. You don't need to have a smartphone for the Vivofit, because it has desktop software in addition to an Android or iOS app.
All apps, be it mobile or desktop, act the same — which is nice. No learning curve exists, should you migrate between devices. Do keep in mind that you'll need to sync each time, though; the information may not be readily available via desktop if you used the smartphone to sync last week. For what the Vivofit is, the app(s) do a great job of giving you a good idea of how active you are.
Like the wearable, the app is similarly pared down. It gives a synopsis of your activity levels, offering a glimpse into how much you really do in a day. One nice thing it offers is, when setting it up for the first time, it asks you what your activity level is. We like it for its simplicity and ease of use, but it could offer just a bit more heft. The app is really just telling you what you're up to, not offering reasons to change or ways to become more active.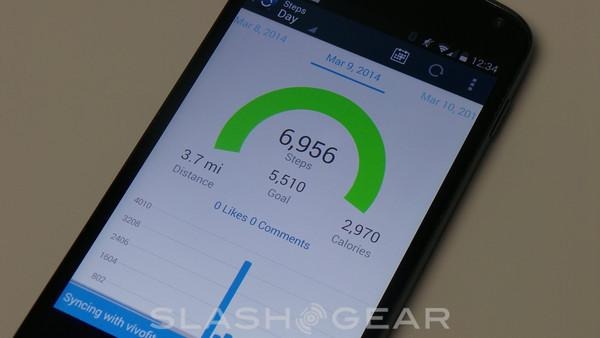 Performance
One thing to get out of the way in quick order is battery life. With no backlit screen, and no constant tethering via Bluetooth, the battery on the Vivofit is said to last upwards of a year before needing a replacement. We couldn't check that just yet, but in a few weeks of testing, we've seen no signs of battery drain at all.
We should also mention syncing the devices was really easy, either via desktop or mobile. The only annoyance when syncing is that the two Garmin devices need to be ten meters apart, so you essentially have to put the heart rate monitor in another room when syncing the wristband, and vice-versa. A problem if you use both, but likely of no concern if you're using just one.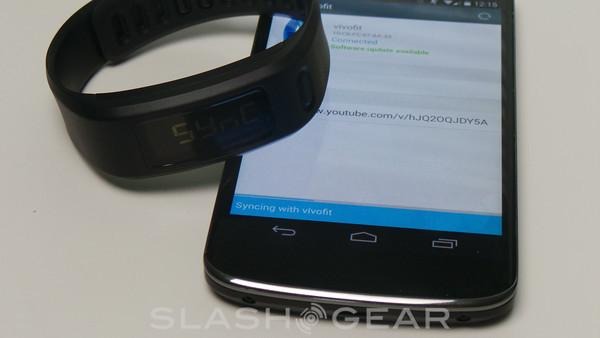 The Vivofit's main aim is tracking motion, like a pedometer. In doing so, the Vivofit keeps in mind what your activity level is (which you set up the first time you sync the device), and suggests activity when needed. If the Vivofit thinks you've been inactive for too long, a red band appears across the top. It varies in length, depending on how sedentary you've been, but a red band across the entire top of the display suggests you should take a walk.
As simple and easy as the Vivofit is, it also isn't perfect. Just getting up to grab a coffee or walk to the car isn't enough to satisfy the wearable. Taking a hundred steps won't remove the red-band-of-death across the top, or even cause it to diminish. We'd rather see this a little more sensitive to reflect the true activity level of many people who might move around an office, but not on a jog at lunch. I naturally chose the low-level activity on set-up because I spend most of my time bouncing around the office, not cutting down trees or guiding nature walks. I don't have the luxury of taking a half hour walk in my day to satiate the wrist-wear, and I would guess neither do you.
The Vivofit also didn't accurately track all my activity, even when used as a simple pedometer — which is the baseline goal, here. When grocery shopping, it didn't register much at all, even though I walked a good half mile around the store. My only answer for it registering about 50 steps when I took much more was that I had my hand on the cart most of the time, so it registered no movement.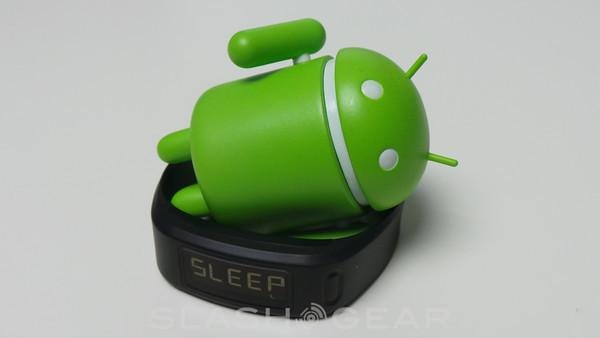 Wrap-Up
We like the Vivofit for someone who is starting to be interested in wearables for the purpose of getting healthy. It's also useful for someone who may not have a smartphone, as the desktop app/sync is available. That's not always the case with wearable devices — some ask that you sync to a smartphone, even being picky about which OS you use. Not here.
The flipside is that the Vivofit is a bit simplistic, so someone looking for a robust all-in-one wearable likely won't find this one worth their time or money. The chest-strap used to measure heart-rate might be accurate, but unless it's lighting up like Tony Stark's ARC reactor, I just can't get on board. Other wearables just hitting the market track your heart rate from the same wristband used for other things, so the Vivofit falls short here.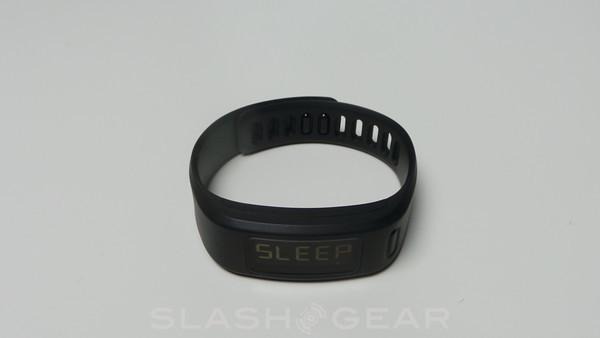 With the coming onslaught of Android Wear devices, and impending "iWatch" or whatever Apple brings us, will the Vivofit still be useful? That's hard to say. The battery management here is astounding, but it comes with the tradeoff of not having a screen or interface. The strap is comfortable and secure, but a tad bulkier than, say, a Jawbone UP24.
Overall, it's a good wearable for basic function, and gets better with time and use. It didn't track my movements accurately, but that could be for a variety of reasons. I live in a vertical home, and don't migrate much during my day. When I do get out in the rainy Pacific Northwest, it's likely not for a hike this time of year.
Looking for more on body-worn tech? Check out the SlashGear Wearables Hub!