Garmin silently drops the nuvi 1450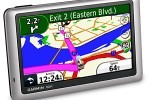 Garmin has silently added the new nuvi 1450 GPS navigation device to its line up without a press release or anything to announce its presence. The 1450 is a slick little device that is priced for the higher-end of the market at $449.99.
The gizmo has a massive 5-inch touchscreen with a resolution of 480 x 272 pixels and a white backlight. The device measures 5.4" x 3.4" x 0.6" and weighs 7.8 ounces. The battery is good for up to three hours. Garmin offers optional cityXplorer content to help you navigate the city on public transit showing where to catch a bus or subway.
For drivers the GPS device also offers lane assistance technology to help you get in the right lane for upcoming turns. The 1450 can also save up to ten routes allowing you to plan trips before you hit the road. It also supports a breadcrumb trail with up to 10,000 points. Garmin also equips the device with an ecoRoute feature that will route you using the most fuel efficient path to your destination.
[via GPSTrackLog]