GameStop Testing Gaming Tablet Ahead Of 2012 Launch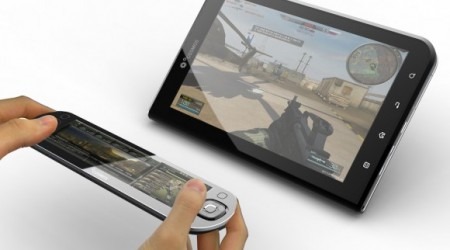 GameStop's gaming tablet search has turned up a slate, according to company president Tony Bartel, with the retailer currently testing the Android-based slate and readying a custom controller. Describing the unnamed tablet as a "GameStop certified gaming platform" to GamesIndustry, Bartel said that while it will initially offer a "modest selection" of native titles, the eventual plan is to stream games in a similar manner to OnLive.
It's when that streaming begins that the dedicated controller – which was previously tipped to connect via Bluetooth – will come into its own. "There's not a lot of tablet/android based games for the consumer that are designed to use an external controller," Bartel suggests. "There are a few games out there and more that are coming, but our thought is that the tablet is a great immersive gaming device so it's hard for us to envision how that tablet will really function as such without some sort of controller."
Rather than wait passively for such titles to emerge, GameStop intends to work with developers to get them motivated. "Our first foray is to really be working with developers to create an install base of devices with the controller to allow them to develop immersive games" Bartel confirms.
The slate has so far been in testing for around two weeks, but isn't expected to have a full commercial launch until sometime in 2012. The OEM the retailer is working with is unclear at present; the image above shows an OSC9 concept image.
[via This is my next]