Gameloft teases its first Unreal game with a bloody image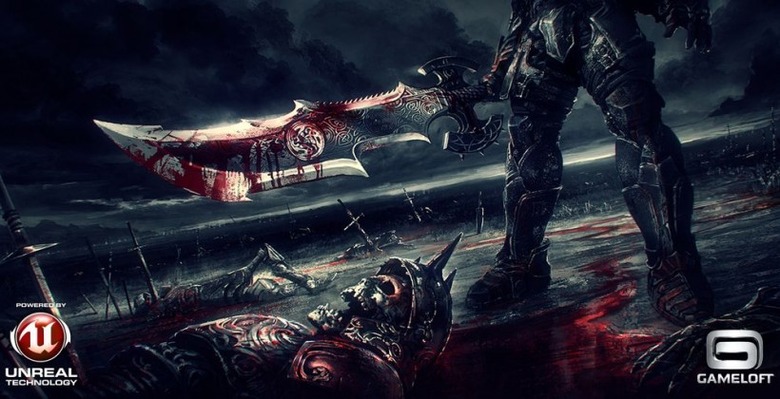 Gameloft has started teasing its first game made with the Unreal engine, and it looks like it's going to be big. We don't have much to go on at the moment – only a single image and the knowledge that this will be made with the Unreal engine – but we're tempted to think that it's something along the lines of Infinity Blade. Of course, the picture below is open to interpretation at the moment, but Gameloft says it has hidden a hint within the image. Have a look and see if you can spot it:
Now, it could be anything, but that massive sword made us immediately think of Infinity Blade. Whether or not Epic has any actual involvement with this game is up in the air, but if it is something similar to Infinity Blade, it's possible that Epic has commissioned Gameloft to develop it. That makes some sense, since Gameloft has more experience developing for Android than Epic does, but we can freely admit that we don't have an evidence to back such an idea up.
Again, your guess is as good as ours, but the dead skeletons, the armor, and the swords suggest that this will be some kind of RPG. Perhaps it's an action RPG similar to Gameloft's own Dungeon Hunter 2? Then again, it could be a straight-up action game set within the fantasy world. Since the image is of a leg, a massive sword, and a bleeding skeleton, it could really be anything, so put on your finest pair of speculation pants and get to thinking.
Currently, Gameloft is asking Facebook users to vote on what they want to see next: the game's first trailer or a new piece of artwork. Votes for the trailer outweigh votes for the artwork by a significant amount, so it seems that we will soon have a new trailer to share with you. Whatever Gameloft ends up revealing, we'll have it for you right here at SlashGear, so stay tuned!