Galaxy Tab 7.0 plus spied for pre-order at J&R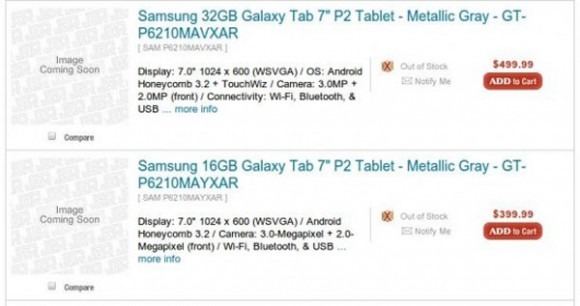 Samsung really wants to sell some tablets and appears to be trying to offer a model for every need. It was only days ago that the Samsung Galaxy Tab Plus went official. Samsung offered up the specs we wanted to hear when the tablet was unveiled, but said nothing about pricing leaving us to wonder. The Galaxy Tab 7.0 Plus has now surfaced for pre-order at J&R with pricing in tow. The tablet is up for pre-order in two styles.
One has 16GB of storage for $399.99 and the other has 32GB of storage and is $499.99. Other than the storage, the two tablets are the same. Both tablets are gray in color. The listings have no indication of when the tablets will ship. We don't know the thing will go out all around the world later this month so early November is a decent guess.
The tablet has a 7-inch screen, 1.2GHz dual core processor, HSPA+ connectivity, and a 3MP rear camera and 2MP front camera. Power comes from a 4,000 mAh Li-ion battery. This isn't the first sign of pricing we have seen so far and the price is decent. What do you think is this tablet in your future?
[via Galaxytablife]