Galaxy Sport smartwatch render shows a less sporty design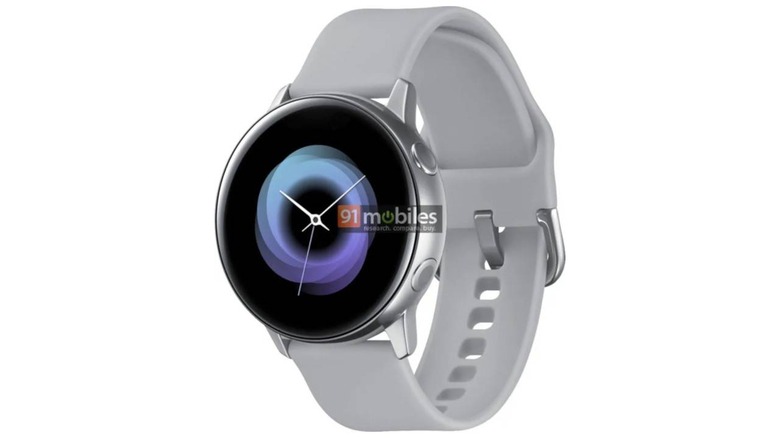 The Galaxy S10 won't be alone when Samsung takes the stage at MWC 2019. While it and the anticipated foldable phone will naturally hog the spotlight, there's always room for some accessories on the showroom floor. One such smartphone companion is the Galaxy Sport, alternatively called the Galaxy Active, Samsung's first sports-oriented smartwatch under the Galaxy brand. You might not be able to tell it's a sports smartwatch, though, judging by how classy it looks compared to Samsung's other smartwatches.
When speaking of smartwatches designed for highly active lifestyles, most would probably imagine rugged timepieces with thick bodies and angular edges. That is definitely how many of Samsung's smartwatches looked, sometimes even those not meant to be sporty wearables. Ironically, the Galaxy Sport looks more premium that even the recent non-sport Galaxy Watch.
Based on the render acquired by 91mobiles, the Galaxy Sport will have a very round dial and a chassis with soft edges. The absence of ridges in what is expected to still be a rotary dial gives it a more premium look than its older siblings. Even the two buttons on the side have become softer-looking circles rather than the curved rectangles on the likes of the Galaxy Watch.
One odd thing about the render, though, is the seeming lack of bezels. Whether that's just a flaw in the render or a hint that Samsung is dropping its iconic rotating bezel control is still uncertain. Either way, the Galaxy Sport could pretty much be mistaken for a Galaxy Classic.
The only visible hint that the smartwatch is anything but a classic timepiece are the straps. Then again, it might be easy to swap those out for leather or metal versions. Of course, there will also be the set of tracking and rugged features that earmark the wearable for outside activities.