Galaxy Note 10.1 beats iPad in IHS teardown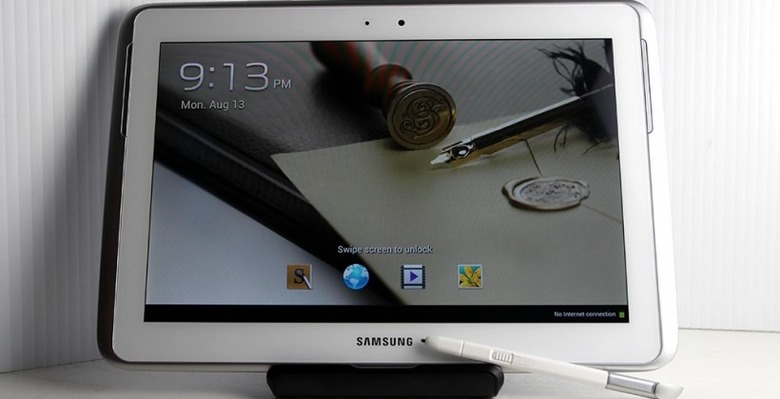 There may be a debate concerning which tablet between the third-gen iPad and the Galaxy Note 10.1 is the better choice for consumers, but when it comes to profit margins, IHS has found that Samsung is the clear winner. A preliminary teardown performed by IHS shows that Samsung is making a pretty healthy margin on the Galaxy Note 10.1, though the company warns that the figures in its report only represent the cost of manufacturing and hardware. This means that after things like licensing and marketing are accounted for, the profit margins on the Galaxy Note 10.1 could take a bit of a dip.
There's plenty of room to breathe though, with the HSPA+ version of the Galaxy Note 10.1 sporting a bill of materials (BOM) that comes in at $283. The cost of manufacturing adds another $10 to that bill, bringing the total to $293. Samsung sells the HSPA+ Galaxy Note 10.1 for around $640, meaning that before marketing and all of those other expenses are tallied up, Samsung is making $347 on each tablet sold. Naturally, other expenses will bring that figure down – possibly significantly – but as we said above, Samsung has plenty of room to breathe with the HSPA+ version of the Galaxy Note 10.1.
Samsung's other Galaxy Note 10.1, the Wi-Fi version, has a BOM of around $260, while Samsung is offering it at $499. By comparison, the BOM of the third-gen Wi-Fi iPad comes in at $316, with Apple selling the 16GB variety for the same price. This means that the Galaxy Note 10.1 beats out a similarly-specced iPad, but again, other non-hardware and manufacturing costs are likely to drive that margin down a bit. IHS says that Samsung can net these high profit margins because it uses a lot of the same components in the Galaxy Note 10.1 as it does in its other devices, so it can save on the purchase price of that hardware by buying large quantities at once.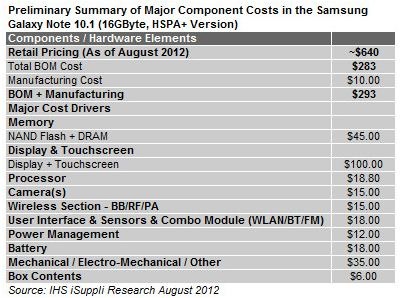 This is pretty good news for Samsung, but IHS director of tablet and monitor research Rhoda Alexander says that Samsung may not be able to keep these profit margins up, pointing out that non-Apple tablet makers generally have a difficult time moving units at $499. Samsung may be forced to drop the price on the Galaxy Note 10.1 before long, and if it does, those profit margins will go bye-bye pretty quickly. Still, Samsung seems to have a tablet that's catching consumer attention in the Galaxy Note 10.1, so it may not have to implement a price cut in order to get the tablet selling well. We shall see, but for now, these results from IHS provide some interesting statistics on the Galaxy Note 10.1's manufacturing costs.