Galaxy Home Mini makes an appearance, bigger Galaxy Home still MIA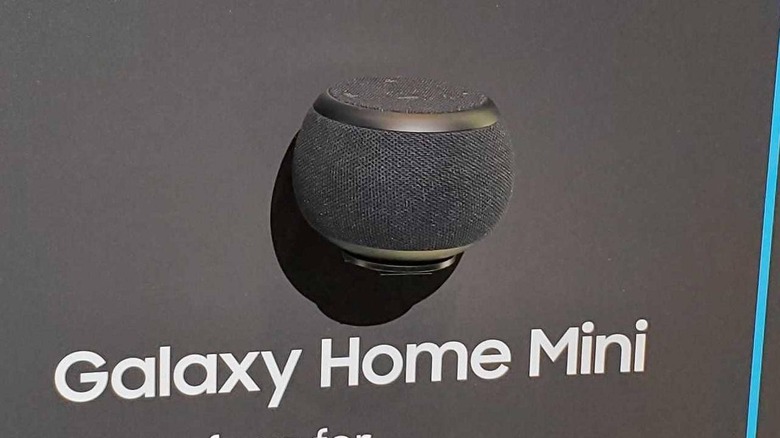 There have always been doubts about Bixby's long-term viability but Samsung seems pretty convinced it will always be part of its future. But while the AI-powered assistant continues to be present in some Samsung phones, those are the only places you'd find Bixby. These days, a smart assistant is almost always in need of a smart speaker and, once upon a time, Samsung promised one as well. That could still happen but the unexpected and silent presence of the Galaxy Home Mini might be a reminder not to hold our breaths for it.
Samsung already confirmed and pre-announced the existence of its own take on the smart speaker market segment, unsurprisingly called the Galaxy Home. That was more than a year ago by now and the Galaxy Home speaker is still nowhere to be seen.
In the meantime, Samsung surprisingly kicked off a limited beta testing program for a Galaxy Home Mini in South Korea two months ago. It was, back then, the most official proof of the mini speaker's existence, even while details continued to remain scarce. The Galaxy Home never got such a beta program and Samsung never expanded the Galaxy Home Mini's testing outside its home country. Suffice it to say, Samsung fans and onlookers were pretty much confused about Samsung's overall plans.
Consider that confusion increased at this year's Samsung Developers Conference. Stuck to a demo wall, which is hopefully not how it's meant to be mounted, is a Galaxy Home Mini, looking more like an incense pot than a speaker. The Galaxy Home, in contrast, was nowhere to be seen.
It's probably apparent by now that Samsung seems to still be undecided in its direction for smart speakers. If it launches the Galaxy Home Mini soon, then it may have already axed the fuller Galaxy Home speaker. If it doesn't launch it, however, then that leaves Samsung without a single smart speaker and two reasons to be embarrassed.