Fujitsu AMILO Mini Ui 3520 netbook announced: Live Images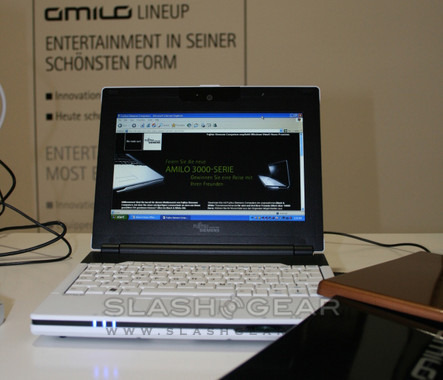 Fujitsu have today finally confirmed their netbook, the AMILO Mini Ui 3520, at IFA 2008. Measuring 32.2 x 17.5 cm, the Mini Ui uses Intel's Atom 270 1.6GHz processor, 1GB of RAM and has a choice of 60GB or 80GB hard-drives from launch, with a 120GB option coming in December. As previewed, the Mini Ui has interchangeable lid covers with five colors available from launch, together with a clear cover for you to sandwich photos in the lid.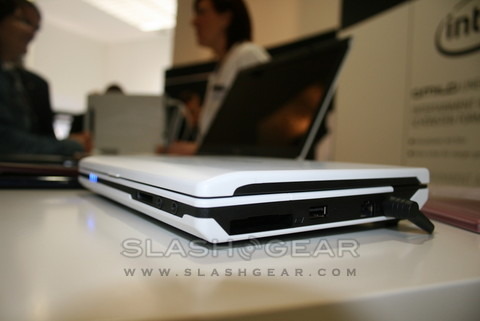 OS is Windows XP Home, and battery life is quoted as in excess of four hours. It has an 8.9-inch non-glare display and weighs 1kg. WiFi b/g is onboard, as is Bluetooth, and Fujitsu have also fitted an ExpressCard slot so that both UMTS ExpressCard modems and USB dongles can be used.
A 1.3-megapixel webcam and array microphone, together with a 4-in-1 card reader, round out the specifications. No sign of any SSD option. It will be available in October, priced at around €399 ($588).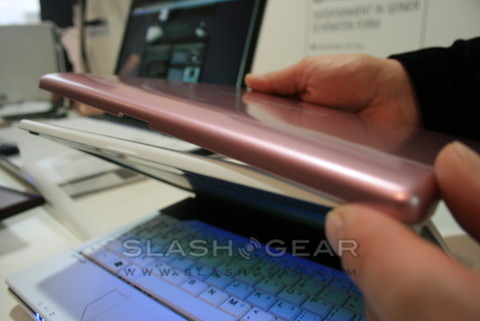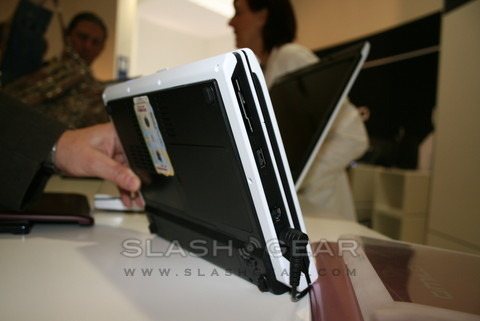 Press Release:
Mini notebook with high-performance power

Fujitsu Siemens Computers presents the AMILO Mini at this year's IFA in Berlin

Munich/Berlin, 28. August 2008 – Fujitsu Siemens Computers will today unveil its new AMILO: the AMILO Mini Ui 3520 is small and smart and extends the IT infrastructure provider's consumer notebook family. Only 32.2 X 17.5 cm in size, the AMILO slips easily into any pocket, its Intel® Atom™N270 processor making it a small powerhouse with a battery life of more than four hours. Its removable clip-on covers, available in five colours to suit any mood, mean you can change its appearance whenever you feel like it. Particularly creative people can use the transparent cover to personalise the computer with their own photos. The mini notebook comes with Microsoft® Windows® XP Home Edition and has a hard disk capacity of 60 or 80 GB with a 120GB option available from December. It can be purchased as of October from specialist retailers, priced around 400 Euro.

The AMILO Mini is perfectly suited to a mobile lifestyle. Its 8.9" non-glare display and its 1kg weight mean you can enjoy the fresh air while chatting with friends or surfing the net – all made possible with integrated WLAN and UMTS support through an express card slot, 3G USB dongle support and Bluetooth® . The array microphone and 1.3 megapixel webcam ensure outstanding picture and sound quality. Liven up your chats with the pre-installed software YouCam from Cyberlink: you can surprise your friends with an amusing 3D avatar or use the morphing tool to make them laugh with your own funny pictures. Pictures can also be easily transferred from a digital camera to the AMILO Mini using the 4-in-1 card reader or uploaded to Internet without any delay – or print them out and use them as a new cover!