Fujifilm launches a pair of affordable FinePix J250 / J20FD digicams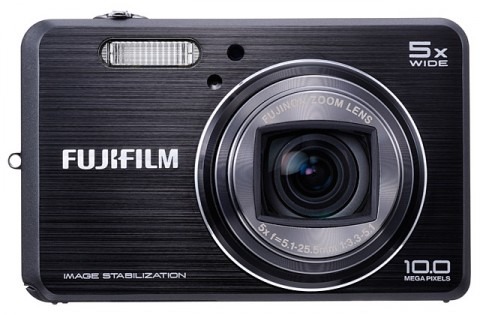 Another pair of FujiFilm are much conventional, sleek looking with aluminum brushed and slim body design but simplified in features. The Fujifilm FinePix J20fd and J250 are both 10-megapixel compact digicam with automatic scene recognition, face detection and Image Stabilization technology – digital CCD sensor shift and ISO- based on the latter and ISO-based only the J20fd.
The J250 is a better-equipped model with 3.0-inch LCD and a wide-angle 28mm lens with a 5x zoom, while its smaller sibling is the more basic version with a 2.7-inch LCD and 3X optical zoom.
Both will hit the market in March 2009. The J20fd will be available in black or silver finish for $129.95, and the black only J250 will be priced at $199.95.
New FinePix J20fd and J250 Continue J-Series Momentum by Merging Style with the Latest Technologies at Value Price Point

Valhalla, NY, February 17, 2009 – FUJIFILM U.S.A., Inc. today announced the two newest additions to its popular J-series line-up with the FinePix J20 and J250. With sleek designs and powerful features, the FinePix J20 and J250 are great digital camera options for the consumer on a budget who doesn't want to sacrifice great quality or style for a lower price.

At only 17.4mm thick, the FinePix J20 is the perfect on-the-go camera fitting easily into a shirt pocket or hand bag. Despite its size, the FinePix J20 black metal body houses a 10 Mega Pixel CCD, a 3x Fujinon optical zoom lens and a brilliant 2.7" high resolution LCD which displays images with sharpness and clarity. Not to be outdone, the FinePix J250 boasts a 3.0" high resolution LCD and Fujinon 5x Wide Angle, Optical Zoom (28mm-140mm equivalent on 35mm camera) which makes it easy to capture distant objects or large groups at close range.

Automatic Scene Recognition

Both the FinePix J20 and J250feature Fujifilm's new SR Auto (Automatic Scene Recognition), which enables the cameras to intelligently recognize six types of scenes automatically. For each picture taken in this mode, the cameras will optimize the ideal exposure, focus, white balance and ISO for the scene to ensure the best quality picture is captured with ease.

Fujifilm's renowned Face Detection Technology also comes standard on both J-series models. The FinePix J20 is available in black and silver, while the FinePix J250 is available in black.

Fujifilm's FinePix J20 and J250 also offer the following value-adding features:

* Image Stabilization: The FinePix J250sports a combination of Mechanical and ISO-based stabilization creating complete anti-blur protection making it easy to capture all the action, and the J20 has Fujifilm's Picture Stabilization.

* Scene modes: Pre-programmed scene modes provide top-quality photos in a wide-range of shooting conditions.

* Low Light Shooting: Both models utilize ISO settings of up to 1600 at full resolution, to capture stunning images even in low light.

* Battery Life: Long-life rechargeable Li-ion battery for extended shot life.

"It's important to offer an affordable digital camera without compromising performance or style," said David Troy, marketing manager, Consumer Digital Cameras, Electronic Imaging Division, FUJIFILM U.S.A., Inc. "With an overwhelming consumer response to the initial J-series cameras, we wanted to give our customers even better features for the same low prices."

The FinePix J20 will debut in February 2009 while the FinePix J250 will debut in March 2009 with retail prices of $129.95 and $199.95, respectively.