Ford SYNC hits Europe in 2012 Focus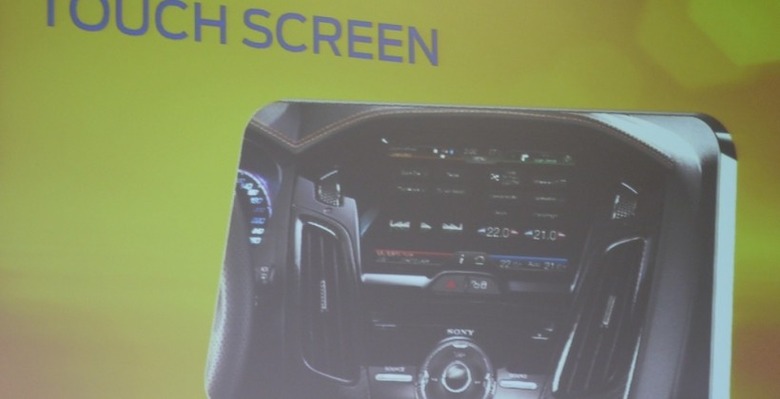 A car company might not be what you'd expect to find at IFA 2011, but Ford is here to talk about its "Drive Smart" push to include SYNC in future vehicles. Already in 3m Fords on US roads, Ford is now bringing SYNC to Europe – first with the 2012 Ford Focus – with the expectation that it will be in 2m models by 2015. As in the US system, Ford SYNC supports voice control, text-to-speech for incoming SMS messages, WiFi hotspot functionality and Michelin Guide restaurant suggestions.
The SYNC setup consists of an 8-inch LCD touchscreen in the dashboard, a GPS receiver, a Bluetooth link to your phone (for hands-free, SMS and tethered modem use), various simple steering wheel controls (with user-assignable shortcuts) and a Media Hub in the center console. This includes three RCA inputs (for video and L/R audio) so you can plug in an external video source (though only when the car is in park), two USB ports (which can accept a 3G/4G USB modem), an SD card slot and WiFi inside which creates a mobile hotspot for up to five users.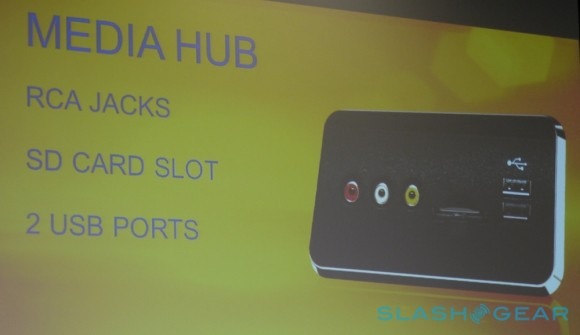 Incoming SMS messages are read out – including emoticons – and drivers can respond either with a preset message or by calling back the sender. There's also AppLink, hooking up to apps on your iPhone, Android device or BlackBerry, and doing things like piping streaming music services through the car's speakers. Voice-recognition is used to control the apps, as well as to query the integrated Michelin database; say "I'm hungry" and SYNC shows nearby restaurants, their reviews, price guidelines and an easy way to contact to make a reservation.
Should you crash, SYNC automatically contacts 112 emergency services if the airbag is deployed or if the fuel pump is shut off; it uses the car's GPS and cell-tower triangulation to pass on your location. Navigation is provided by Telenav and NAVTEQ, while the standard audio system is a Sony setup with regular speakers and amplifiers so that owners can upgrade as they see fit. The audio out of the head unit is all analog, for broader compatibility.
No word on European pricing, but in the US SYNC is offered as a $399 package on the Focus.