Focal rolls out new waterproof AquaTune series iPod active speakers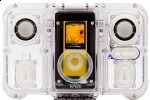 The iPod waterproof armor expert, Focal Corp, has updated its AquaTune series iPod waterproof active speaker with AquadTune nano 4G and AquaTune v2. Both the Aquatunes maintained the seamlessly clear polycarbonate enclosure and are O-ring sealed to withstand water resistant of up to 1 meter for 30 minutes (IP67 certified).
The nano 4G has a diameter of 33mm and can drive 18 hours of your play list with a mere 3xAAA batteries to supply a dual-channel 1W speakers with frequency response of 200hz-18Khz.
For much wider sound effect, the AquadTune V2 supports a variety of iPod models from First to Fourth iPod, classic, shuffle to mini on a pair of 3-watt 45mm speaker with frequency response of 50hz-20khz. Four piece of AA batteries will last you 30 hours of playing time.
The Aquatune V2 is available now in Japan for 15,800 Yen ($ 175) while the nano 4G release will follow in January for 10,800 yen ($120).