Top 15-Inch Subwoofers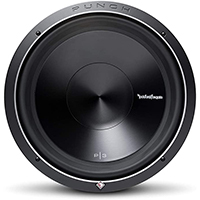 Rockford Fosgate P3D4-15
Pros
2- and 4-ohm models
Dual voice coils
60-watt RMS
One-year warranty
The Rockford Fosgate P3D4-15 Punch subwoofer offers 600 watts of RMS for a strong listening experience. Its unique spider venting design keeps the motor cool, which keeps it safe and working properly for a long period of time. And if something does go wrong, it is protected by a one-year warranty.
The Rockford Fosgate subwoofer is also very stylish and features a modern design. When you're installing it into your vehicle, the flex fit basket allows for slight adjustments when mounted for the perfect fit.
At $329.99, it's not the cheapest on the list, but it's also not the most expensive. It's a good price for everything included. And with nearly 170 5-star reviews, purchasers also agree that this is a good purchase.
The Power Acoustik BAMF subwoofer is packed with an overcompensating motor structure that offers increased magnetic strength for a louder sound. The design's vented T-yoke and frame reduce voice-coil heat buildup. The 1,900-watt RMS is massive and, when combined with a 3-inch dual 2-ohm voice-coil configuration, it's a very powerful option.
The price is lower than most options on the list, at $172.45, but it doesn't include a warranty.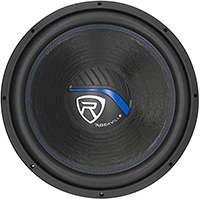 Rockville K5
Pros
Very affordable
2- and 4-ohm options
CEA-rated
Cheap protection plans
The Rockville K5 subwoofer is packed with extra-efficient fiber-reinforced paper cones, chrome-plated terminals and high-grade glues for the optimal experience. It's CEA-rated at 500 watts.
The Rockville K5 subwoofer is one of the cheapest we've found, at just $84.95. And while that may be a red flag in some cases, the high number of positive reviews along with the extensive number of product details gives us the confidence to include it in our list.
The QPower 15-inch subwoofer two-pack has a great price ($214.91) for two solid subwoofers. The RMS isn't advertised, but the 2,220 watts provide plenty of power.
The purchase comes with a two-year warranty. Reviews say you should ease the subwoofers in slowly so you don't overpower them, which may be too much to ask some people. But at the current price, many will think that it's worth it.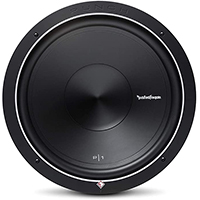 Rockford Fosgate P1S4-15
Pros
Kevlar-reinforced
Proven performance
One-year warranty
Low price
The Rockford Fosgate P1S4-15 Punch is the first in the Punch series and is known as the "Woofer of Choice." It's a proven subwoofer that's known by name throughout the industry for its consistency and sound output. While the 250 watts RMS is low compared with some other options, reviews say that it offers a hard-hitting bass for a lower price ($129.99).
This subwoofer includes a Kevlar-reinforced paper cone for a more intense bass impact. And with spider plateau venting, the subwoofer stays cool and is able to last for a longer period of time.
How We Found the Best 15-Inch Car Subwoofers
We browsed Amazon to see what the most popular subwoofers are, using insights like ratings, price point and features included. It's important not to rely solely on the highest number of stars because the star rating can be easily manipulated.
With something like a subwoofer, which can vary in fit from person to person and vehicle to vehicle, it's important to look at the details of the product itself, like wattage, ohms, power style, design and more. Putting all of it together allowed us to create an unbiased guide for the best 15-inch subwoofers.
Compare 15-Inch Car Subwoofers
| Brand | Model | Star Rating* | Cost* | Prime-Eligible |
| --- | --- | --- | --- | --- |
| Rockford Fosgate | P3D4-15 | 4.8 | $329.99 | Shop now |
| Power Acoustik | BAMF-154 | 4.5 | $172.45 | Shop now |
| Rockville | K5 W15K5S2 | 4.4 | $84.95 | Shop now |
| QPower | QPF15 | 4 | $214.91 | Shop now |
| Rockford Fosgate | P1S4-15 | 4.6 | $129.99 | Shop now |
*On Amazon, as of publishing date
What to Know About 15-Inch Subwoofers
You'll need to know what kind of amp you have and what kind of subwoofer it can fit in terms of power. A few other things to consider include:
Wattage: Subwoofers can range anywhere between 100 watts and 7,000 watts. A good target is between 300 watts and 500 watts for an average vehicle.
2-ohm vs. 4-ohm: Ohm refers to resistance. A 2-ohm subwoofer has less resistance in the circuit, which leads to a louder sound but requires more power. The extra power also leads to a lower quality of the base. A 4-ohm subwoofer requires less power and has a higher quality base but isn't as loud.
Warranty: Ideally you choose a product that has a warranty included. One year is a good starting point for a product warranty.
Voice coils: Dual voice coil (DVC) subwoofers are very common because you can be more flexible with your wiring.
CEA Rating: CEA stands for the Consumer Electronics Association. If a subwoofer has a CEA rating, it has been tested for the marketed amp power and is proven to have that much output.
Bottom Line: What Makes a Good Subwoofer?
Whether a subwoofer is good depends on what you want out of the sound. If you're new to picking out a subwoofer, comparing a variety of options is the best way to figure out what works best for you. Consider testing out the subwoofer in person. We recommend looking for one with at least 300 watts RMS that is CEA-rated. Look for a warranty that protects your purchase for at least one year.
15-Inch Car Subwoofer FAQ
Most 15-inch subwoofers cost between $100 and $300. There are also some high-end versions available up to $1,000.
Powered, or active, subwoofers have internal amplifiers included in the system. A passive subwoofer requires an external amplifier in order to produce sound.
You can buy some that are upward of 20 inches, but 18-inch subwoofers are usually considered to be the biggest option available throughout the industry. Other common sizes include 8 inches, 10 inches and 12 inches.
The most common options are 2 ohms and 4 ohms. Both are good options, with the right choice depending on what you're looking for from your subwoofer.
No, elevating a subwoofer allows for the best sound output. That being said, it's OK to leave it on the floor — it's just not the best possible solution.