Falcon Radio Controlled Helicopter provides ammo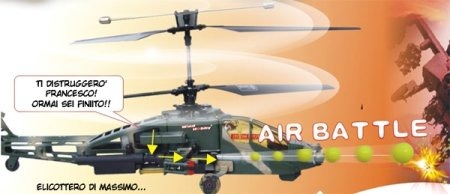 We've been covering a lot of these radio-controlled helicopters lately, but this Falcon model is rather interesting. In fact, it offers more functionality than just flying around.  
The Falcon Radio Controlled Helicopter can hold BB balls in its cargo area. This way, you can shoot at targets while flying the copter around. Can you imagine? Not only can you wing that helicopter around and bug everyone nearby, now you can shoot balls at them, too!
Okay, I am not condoning using this to torment people, but come on. What do people use them for otherwise? The battery can last for eight minutes of sustained flight, which is pretty good. However, I doubt the small cache of balls will last for the whole time. I'd have fired them off within the first 30 seconds, flat.
[via Coolest Gadgets]