Facebook WhatsApp buy triggers unexpected BlackBerry boost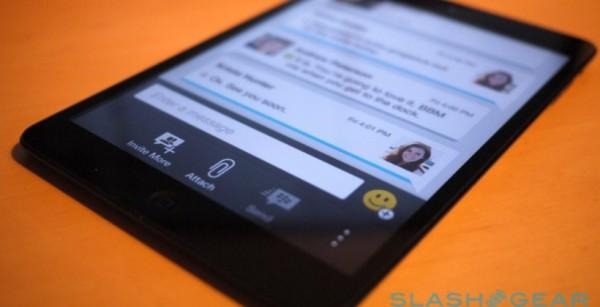 Facebook's acquisition of WhatsApp has perhaps surprisingly given ailing BlackBerry a boost, as the Canadian company's share price jumped amid speculation that messaging service BBM could be worth more than previously believed. The Canadian firm's share price is up more than 5-percent today – and was up more than 9-percent in after-hours trading yesterday – as investors question whether BBM might be the undervalued star of BlackBerry's portfolio of services.
BBM was formerly known BlackBerry Messenger, but rebranded as BlackBerry tried to place emphasis on cross-platform support. Following the launch of BBM apps for Android and iOS back in October 2013, the company has made frequent updates introducing new features, most recently voice calls and Dropbox integration.
Notably, the strategy has not been to keep BBM's best features for BlackBerry devices alone, but to push feature-parity as much as possible, regardless of OS.
The path for BBM hasn't been entirely smooth, however. The head of the division left earlier this month amid rumors of executive in-fighting, and BBM's roughly 80m-strong userbase is just a fraction of the 450m who use WhatsApp.
Nonetheless, as investors hunt for a possible saving grace for BlackBerry's future, and the company itself pulls back from producing hardware and instead looks to capitalizing on its services, a greater role for BBM could be on the cards. Facebook's $19bn valuation of WhatsApp works out to around $42 per user, considerably higher than the value many analysts have put on individual BBM users.