Exploding Gateways? - Gateway recallls 14,000 batteries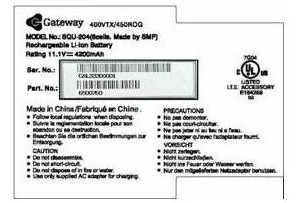 If you have a four-year-old Gateway laptop, shut it down and back away. You remember those exploding Dell laptops? Turns out your Gateway has the potential to do the same thing.
The recall affected 14,000 lithium-ion batteries found in Gateway 400VTX and 450ROG laptops sold between May 2003 and August 2003. The bad batteries are marked with the following part numbers: 6500760 and 6500761.
So far there have only been 4 "overheating" problems. I'm really not sure that Gateway would actually tell us if they exploded, so we're just going to say they "overheated." You can go to Gateway's website or call their toll-free number (800) 292-6813 where they'll set you up with a replacement.
Gateway Recalls 14,000 Laptop Batteries [via dailytech]