Exact your revenge with the Revenge CD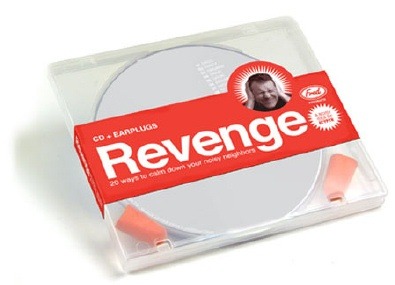 I'm sure at one time or another most of us have had a really obnoxious neighbor that we would love to do cruel things to. Unfortunately, our ingenious plans of revenge aren't always legal, or plausible; for something simple, yet effective give the Revenge CD a whirl.
Ironically enough, my brother was just complaining about having annoying neighbors on either side of his house. He owns his house but the houses around him are rentals, and we all know rentals can draw in the crazies at times. He's so annoyed by it he wants to move. I think I will be buying this CD for him; hey it's worth a shot.
I know it doesn't seem possible to exact your revenge through something as simple as a CD, but trust me it will get the job done. The CD plays 20 tracks of disturbing noises such as violin practice, and an unhappy dog. To those of you who haven't ever had to hear an amateur trying out the violin, trust me, it's not pretty. No one likes the sound of that screech. Thankfully the CD comes with earplugs so you don't have to hear it, and it's priced at only $12.99.
Revenge CD and earplugs [via popgadget]