We have seen a slew of rumors about the Samsung Galaxy S7 over the last month or so. We know that Samsung will be holding its Unpacked event on February 21. This is the event where the Galaxy S7 is expected to be unveiled. If that unveiling holds true, the next question is when will shipments begin.
A new rumor is making the rounds that claims the European rollout of the Galaxy S7 will kick off on March 11. If true that means the time from announcement to availability, at least in some parts of the world, will be nearly a month.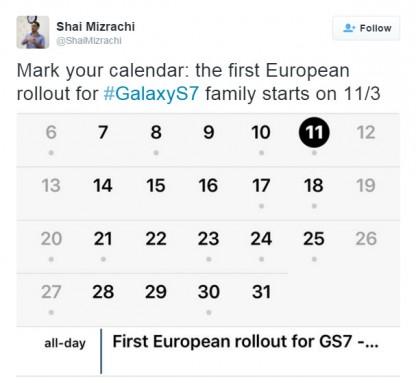 Rumors have suggested so far that the S7 might not be a radical departure from what we are used to seeing from Samsung. The big changes expected are the addition of a microSD card slot and serious battery life.
Leaked benchmarks have shown what the performance will be like for the two available chips tipped to be at the heart of the S7- the Snapdragon 820 and Exynos 8890. The standard S7 is expected to land with a 5.2-inch screen while the S7 Edge is expected to have a 5.5-inch curved-edge smartphone.
SOURCE: Twitter