Environmentally friendly sink, with a slightly creepy twist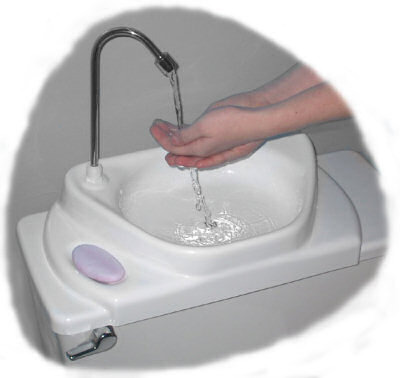 Want to put a bathroom in a closet? To make things easier for you now you can combine the toilet and the sink with the Sinkpositive Sink. When you flush the sink starts running with water that would normally go straight to the tank. This way you save on water.
It would be great for those teeny tiny bathrooms that only have room for a toilet, however, conventional bathrooms I can't see it working out in. First of all, it's going to be extremely awkward and uncomfortable to get work around the toilet to wash your hands. Not only that, but it also is really only good for washing your hands after you do your business, which a lot of us use our sink for more than that. We have to wash our faces in the morning or other times and frankly, even if I could, I don't know that I would wash my face in this sink. However, in a regular bathroom I suppose you could just have this in addition to your normal sink. A lot of larger bathrooms have two different sinks anyway, so why not make one environmentally friendly.
The sink does not have handles for you to grab after you are done washing up so even though it is a little creepy to wash your hands on the toilet it does minimize germs. To get one of these earth friendly sinks it is just $99 to $120.
Sink built into toilet saves water, grosses out [via Geekologie]