Energizer phones with popup selfie cameras coming at MWC 2019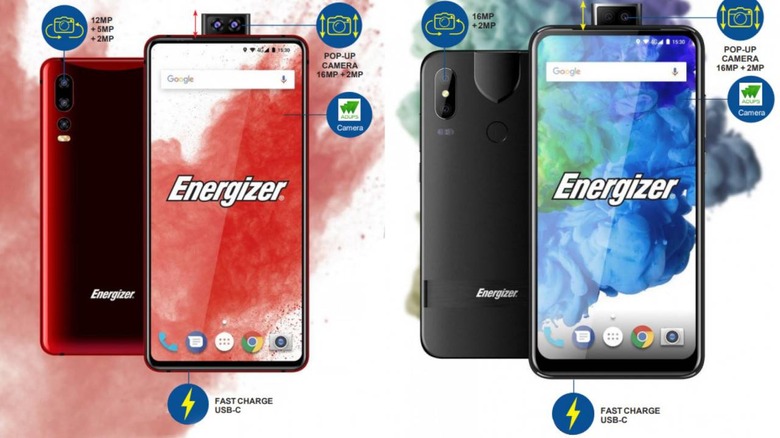 Just when you thought the fad over elevating cameras has passed, along comes Energizer to keep it going and going and going. Yes, the famed battery maker and sometimes smartphone maker will soon debut not one but two almost bezel-less phones that hide their front cameras inside. Whether they actually make a difference in the saturated smartphone market, however, is another question entirely.
Energizer, which lends its brand to actual phone makers, like Avenir in this case, has had quite a few smartphones under its name already. Some of them played on the company's popularity when it comes to batteries. Many of them odd.
If it weren't for the Vivo NEX S, these two new Energizer phones would have also been labeled as odd. As it stands, however, they will mostly be seen as late to the party instead. The Energizer Ultimate U620S Pop is powered by a MediaTek Helio P70 with 6 GB of RAM and 128 GB storage, marking it as a higher mid-range phone, especially with its 6.2-inch FHD+ screen. The Energizer Ultimate U630S Pop, despite the higher number, steps down a bit with a MediaTek Helio P22, 4 GB of RAM, 64 GB of storage, and a 6.3-inch HD+ screen.
The Ultimate U620S Pop has triple cameras on their back composed of a 16 megapixel main sensor, a 5 megapixel sensor whose capabilities remain unknown, and a 2 megapixel depth sensor. The U630S Pop reduces that to two by removing the 5 megapixel camera. The real stars, however, are the dual cameras that pop up from the body revealing a 16 megapixel sensor and a 2 megapixel depth sensor.
The information doesn't mention how these cameras elevate and descend but, chances are, they make use of motors and springs. These two are actually just part of 26 new phones that Energizer plans to flood MWC 2019 with.