Emtec gdium EM-PC with removable OS key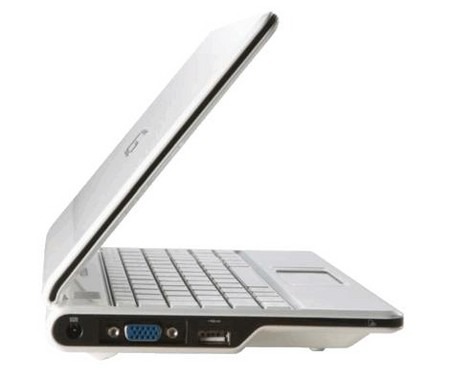 Set to rival ASUS' Eee in the Australian market at least, Emtec's gdium EM-PC is yet another budget ultraportable to add to the long, long list.  Details are relatively scant at the moment, and the only picture we have is this side-on view, but we do know it's running Linux, has an 8.9-inch, 1,024 x 600 display and uses removable flash memory for storage.  In fact, Emtec are particularly proud of their GKey USB dongle, which seemingly locks the machine when removed and contains not only user data but the OS and system files.
It's not terribly clear whether there's any internal memory at all; it looks as though everything is kept on the GKey, without which the machine is dumb.  That has the benefit of meaning that you can plug the USB drive into any computer and be working in the same environment, on the same files, without worrying about different document versions.  However it's also unclear as to where exactly the memory key slots in; if it's sticking out of the side of the notebook, that doesn't do much for ergonomics.
In a somewhat... unusual naming decision, Emtec have also launched the "gayaplex", an online education portal that is accessible via the GKey.  Apparently developed by educationalists, the company hasn't detailed its content yet.  The gdium EM-PC will be available come July in Australia for AUD $449 (US$420).
[via Engadget]