Element Case Joule iPad Stand Review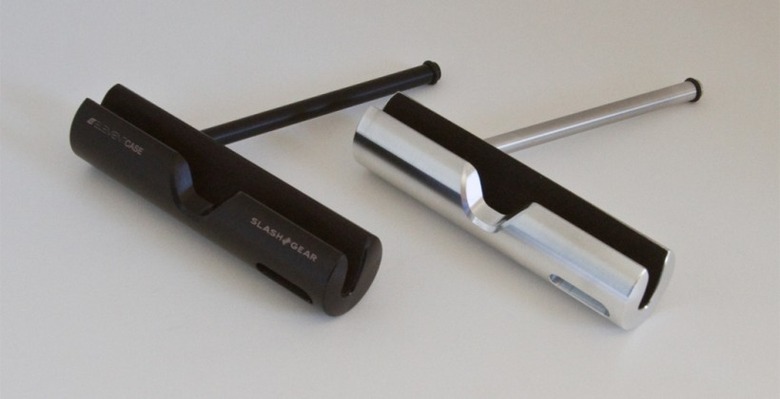 It's been said that Apple accessories are a licence to print money, and with Element CASE's Joule iPad Stand coming in at $129 it looks like a pretty good example of that. Can a way to prop up your iPad – even if it's indecently sleek and nicely machined – really be worth a quarter of the cost of an iPad itself? Check out the SlashGear review after the cut.
Having reviewed the Luxa2 H4 iPad Holder last week, a surprisingly flexible stand that comes in at around $50, we had high hopes for the significantly more expensive Joule iPad Stand. The latter certainly answers a reasonably common complaint about the H4, that it dominates a desk when the iPad isn't in place. Instead, the Joule is a compact aluminum bar with a velvet-lined slot running its length and a discrete metal rod sticking out the back to keep everything propped up.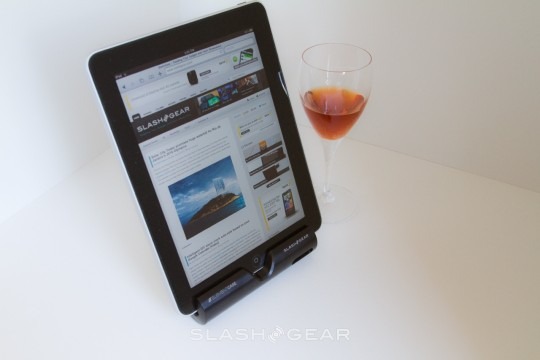 If you're going to buy into the concept, then you need to accept that you're paying for style and design as well as functionality, since at $129 (or $139 for the black version) this is about as far away from crafting your own stand out of the iPad's packaging as you can get. To be fair, we can't fault Element CASE's craftsmanship. Both the polished and black anodized finishes are flawless, and we have no qualms about sitting the unprotected bottom edge of our iPad into the groove. Three possible angles are supported, thanks to the "tilt foot" rod at the back having three holes into which it magnetically slots.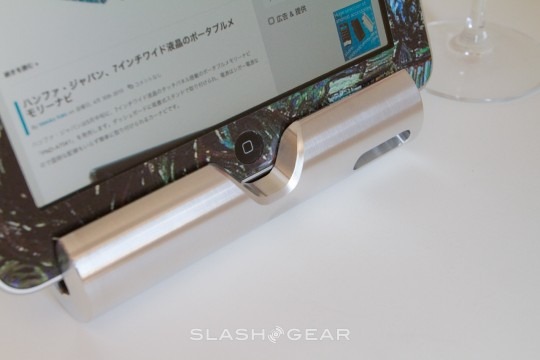 There are two cut-outs, one deep slice intended to give you access to the iPad's home button, and a more discrete slot to the right which lines up neatly with the tablet's speaker. That way you can still hear email notifications and music while the iPad is in the stand. There's no cut-out for a sync cable, however, so you'll either have to take the iPad out to recharge it or – since there's no limit on which of the four orientations you put the tablet in at – you could feasibly turn it upside-down or to landscape view. Of course, depending on which way around you have it, you might make accessing the headphone socket, lock button or volume controls more tricky.
Weight is sufficient to allow you to type with the on-screen keyboard without too much concern that it might tilt over and fall backward, and at its most reclined position it's actually quite well set up for text entry. Still, it makes more sense to use a Bluetooth keyboard, and Apple's own 'board matches quite nicely.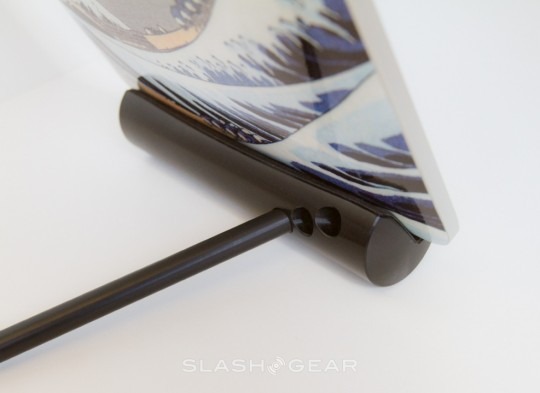 While the angle adjustment works reasonably well, we'd prefer to have seen some sort of pivoting leg that could hold the iPad in a broader range of angles rather than just three. Still, the flip side is that such a mechanism could, if relying on friction to maintain it, be difficult to adjust (otherwise you'd push the iPad back with every tap); if it locked into place somehow, however, that would introduce extra complexity to what's in effect a pretty minimalist design.
Whether a stand is worth a quarter of the price of an iPad itself will depend on the person considering buying it. Although the Joule is obviously well made and reasonably pure in its aesthetic, we can't imagine many people will be able to get past its cost. Still, that fits in with Element CASE's positioning: the silver Joule is apparently limited edition, and the black version – which has a custom logo option – is even more expensive. These aren't mass-market products (though we can't imagine it'll be long before budget rivals "borrow" their style) and most people would be satisfied with something cheaper from another firm, but the few who opt for the Joule will have a well-designed, beautifully made accessory.